Laird Technologies to Attend InnoTrans 2012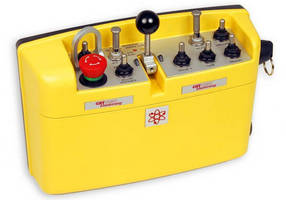 Company to Demonstrate New Feature of Rail Remote Control System

St. Louis, Missouri, USA - Laird Technologies, Inc., a global leader in the design and supply of customized performance-critical components and systems for advanced electronics and wireless products, today announced it will be attending InnoTrans 2012. The event will be held at the Messe Berlin GmbH, in Berlin, Germany, September 18-21, 2012. Laird Technologies will exhibit in hall 6.2 at booth 143.

Laird Technologies will be showcasing the TH-EC/LOII remote control system for locomotives. As the first remote control in the world specifically designed in compliance with the European safety standards for locomotives EN 50239, the TH-EC/LOII offers new possibilities for streamlining the railway industry. A new feature of the system allows the operator to control electric switch points while also controlling the locomotive with the same remote control system. This helps to reduce the risk of injuries and saves time during the shunting process. Laird Technologies will hold a live demonstration of the new feature at their booth during the show.

"We are excited to exhibit this new feature at InnoTrans 2012," said Volker Böckenholt, Sales Director for Railway Systems at Laird Technologies. "The show has grown exponentially in recent years and offers Laird Technologies a great opportunity to showcase our industry-leading products to a wide audience in the rail industry."

InnoTrans 2012 is the leading international trade fair for rail transport technology. With over 100,000 visitors and 2,000 exhibitors at the previous event, InnoTrans 2012 looks to increase their impact on the rail industry. Visitors and exhibitors include public and private transport enterprises and operators, manufactures and suppliers of transport technology, construction companies and public administrators and government officials. The four day event includes speakers, round table discussions and informational sessions along with the exhibition.

Laird Technologies has assembled the most comprehensive collection of radio remote control brands for material handling equipment, mobile equipment and virtually any equipment where the operator can be moved to a safer, more efficient location. With 65 years of radio frequency (RF) and industrial wireless remote control experience, the company has approximately 7,000 customers with a total installed base of over 150,000 wireless remote control systems throughout the world. To learn more about wireless remote control technology from technical experts in person, stop by the Laird Technologies booth or logon to www.lairdtech.com.

Contact Information

For additional information, visit www.lairdtech.com or contact us at:

Americas: 724-962-3571

Europe: +49 2161 6363-0

Asia: 86-21-2308-1128

Email: mail@cattrongroup.com

About Laird Technologies, Inc.

Laird Technologies is a global technology company focused on providing components and solutions that protect electronic devices from electromagnetic interference and heat, and that enable connectivity through wireless applications and antenna systems.

Custom products are supplied to all sectors of the electronics industry including the handset, telecommunications, data transfer and information technology, automotive, aerospace, defense, consumer, medical, mining, railroad and industrial markets.

Laird Technologies, a unit of Laird PLC, employs over 9,000 employees in more than 46 facilities located in 16 countries.

More from Architectural & Civil Engineering Products