Hydraulic / Pneumatic / Radial Shaft Seals
Labyrinth Cartridge Seal protects split block housed bearings.
Press Release Summary: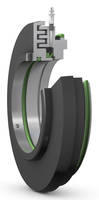 Promoting machine performance and uptime, SKF Taconite Seal protects against contaminated or wet operating conditions. This multi-stage seal is optimized to foster exclusion of contaminants; prevent water ingress, even during high-pressure washing; maximize bearing and seal service life; and reduce grease consumption. Machined cast iron or steel seal consists of one stationary and one rotating ring and can be supplied to fit bearing housings in shaft sizes from 1 15/16 to 18 in.
---
Original Press Release:

New SKF Taconite Seal for Bearings in Split Block Housings Protects Against Extremely Contaminated or Wet Conditions



A new SKF Taconite Seal for bearings in split block housings ideally protects against extremely contaminated or wet operating conditions.  Benefits of this multi-stage labyrinth cartridge seal include excellent exclusion of contaminants, improved prevention of water ingress (even during high-pressure washing), maximized bearing and seal service life, reduced grease consumption, reduced environmental impact, and optimized machine performance and uptime.  The seal provides an especially practical barrier solution for demanding applications such as conveyor pulleys, hoists and winches, pulverizers, fans, and similar equipment in the mining, cement, pulp and paper, steel, and marine industries, among many others.



The SKF Taconite seal (machined cast iron or steel) consists of two rings (one stationary and one rotating), which form a very narrow labyrinth between them.  The rotating labyrinth ring carries an internal, low-friction V-ring seal that seals against the stationary labyrinth ring, blocks contaminants from entering the bearing housing, and contributes to effective purging of grease.  The rotating labyrinth ring, facing the bearing housing, serves to deflect and fling away water.



This compact seal features a shorter axial width compared with conventional types to offer space-saving advantages.  Seals can be supplied to easily fit bearing housings in a range of shaft sizes from 50 mm (1-15/16 in.) to 450 mm (18 in.) as standard.  A circumferential groove on the outer diameter surface of the seal's stationary labyrinth ring promotes simplified alignment and installation.  Smaller seal types will firmly secure to a shaft using three grub/set screws, and versions with larger diameters have been engineered for "bolt-on" mounting.  Built-in grease fittings enable easy re-greasing when necessary.



The SKF Taconite Seal is compatible with new or existing housings and custom products can be developed to satisfy particular application requirements.



Contact

SKF USA Inc.

890 Forty Foot Road 

P.O. Box 352

Lansdale, PA 19446

Phone: 800-440-4SKF (toll free)

www.skfusa.com



SKF is a leading global supplier of bearings, seals, mechatronics, lubrication systems, and services which include technical support, maintenance and reliability services, engineering consulting and training. SKF is represented in more than 130 countries and has around 15,000 distributor locations worldwide. Annual sales in 2014 were SEK 70,975 million and the number of employees was 48,593.

www.skf.com

Related