Laboratory Faucet is available for 1-2 in. water loop.
Press Release Summary: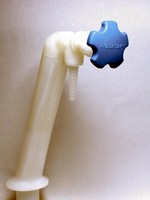 Designed to dispense clean water at point of use, Type 530 AquaTap(TM) Recirculating Laboratory Faucet features flow through head design that eliminates dead-legs and optimizes flow characteristics. Inline Flow Diverter (IFD) technology provides flow rate of up to 5 gpm with not more than 1.5 psi pressure drop. Faucet is available in SYGEF® PVDF, while accessory products, including IFD, are available in both SYGEF® PVDF and PROGEF® natural polypropylene.
---
Original Press Release:

GF Piping Systems' New Recirculating Laboratory Faucet Offers Ideal Flow Characteristics for Laboratory Water Dispensing Applications



TUSTIN, Calif. - April 23, 2008 - Designed to provide clean water at the point of use, GF Piping Systems has introduced the new Type 530 AquaTap(TM) Recirculating Laboratory Faucet. Featuring a patented flow through head design that eliminates dead-legs and optimizes flow characteristics, the faucet offers unprecedented recirculating capacity at a minimal pressure drop to the main water line. Developed with water quality in mind, the new faucet is intended for laboratory dispensing applications in a variety of UPW markets, including life science, semiconductor and food and beverage.

The AquaTap(TM) Faucet was developed to address the need for a laboratory UPW dispenser that could solve water quality issues related to poor faucet recirculation, such as significant pressure drop and considerable dead-legs resulting in potential bacteria growth at the point-of-use. The AquaTap(TM) Faucet eliminates the need for extensive water purging by providing continuous flow through the faucet head and preventing the formation of harmful bacteria. When installed in their system, customers can be confident that the AquaTap(TM) faucet from GF Piping Systems is consistently delivering clean water that meets or exceeds their needs.

The introduction of the AquaTap(TM) faucet also includes a patent-pending innovation in the form of GF Piping Systems' Inline Flow Diverter (IFD) technology. Featuring maximum recirculating faucet flow with minimal pressure drop across the main UPW loop, the IFD is specifically designed to maximize the performance and ease the installation of the Aqua Tap(TM) faucet into new or existing systems.

The new product offering is available for main water loop sizes ranging from 32mm (1in) thru 63mm (2") and the IFD can be installed by either IR or Sanitary connection. The faucet is available in SYGEF®PVDF, while accessory products, including the IFD, are available in both SYGEF® PVDF (polyvinylidene fluoride) and PROGEF® Natural PP (polypropylene). Both materials offer excellent chemical resistant properties and high impact strength. Precise control of flow rates from "off" to "full flow" is assured via the faucet's integral Needle Valve, which offers contamination free sealing without the use of elastomers or lubricants.

To facilitate complete installation versatility, a variety of components are available, including undersink shut-off valves, tubing, tubing interconnects and compression adapters. The faucet can be deck or wall mounted and the IFD can be ordered with up to three port configurations, allowing connection of up to three faucets off the same IFD. Initial capping of unused ports allows for future system expansion.

"The new faucet and IFD is unique in the market," explains Michael Beutler, GF EPS Products Manager. "Unlike competitive products that offer faucet recirculation, the AquaTap(TM) Faucet with IFD combination is designed to provide an unprecedented flow rate of up to 5 (GPM) through the faucet, with no more than 1.5 (PSI) pressure drop across to the UPW main. Combined with its capability to provide consistent water flow with minimal or no faucet purging, lab technicians and researchers can confidently conduct experiments without worrying about water quality jeopardizing their critical operations."

GF Piping Systems supplies a full range of plastic pipe, fittings, valves, actuators, rotameters, fusion machines, secondary containment, tank linings, heat exchangers, custom products, and sensors and instrumentation for industrial process control.

For further information, please contact

GF Piping Systems,

2882 Dow Avenue,

Tustin, CA 92780-7258;

Toll Free (800) 854-4090,

Fax (714) 731-6923;

e-mail: us.ps@georgfischer.com;

Web: www.gfpiping.com

GF Piping Systems

Michael Beutler

(714) 731-8800

mike.beutler@georgfischer.com

More from Electrical Equipment & Systems