Label Printer is designed for apparel contractors.
Press Release Summary: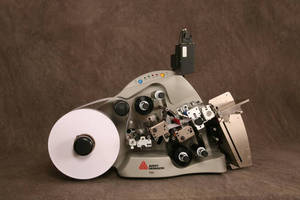 Suited for retailer DC make-ups and short-run printing applications, SNAP 700 features voice-assisted operation and maintenance prompts in 7 languages that support print production in all major apparel producing regions. Print speeds reach 12 in./sec for paper stocks and 7 in./sec for fabric care label stock. System comes with 5 in. wide print head to accommodate variety of label sizes and is available in two-side printing configuration.
---
Original Press Release:

Avery Dennison Unveils Versatile, Easy-to-Use Label Printer for Apparel Contractors



On display at IMB 2009 and Prime Source Forum 2009

SNAP-700 applications include retailer DC make-ups & and short-run printing applications

FRAMINGHAM, Mass.-March 03, 2009- Avery Dennison Corporation has introduced a new high-speed printer, called the SNAP 700, that is easy-to-operate, reliable and economical for producing the most commonly used types of apparel and retail tags, labels and tickets.

Designed to meet the diverse labeling challenges faced by apparel contractors worldwide, the versatile SNAP 700 features voice-assisted operation and maintenance prompts in seven languages that support print production in all major apparel producing regions. The multimedia printer's ease-of-use, relatively small footprint and flexibility make it ideal for retail distribution center make-ups and short-run printing applications. A three-minute video that demonstrates SNAP 700's operation and functionality can be viewed at: www.ibmd.averydennison.com/snap700

"Our number one design objective was reliability," says John Moliski, Avery Dennison product manager, machines and software. "We analyzed all of the breakdowns and problems in conventional printers, found what was causing these problems and designed solutions for them. The SNAP 700's reliability can minimize costly downtime and make apparel contractors, especially those in remote locations, more productive by reducing needs for service calls and repairs."

The SNAP 700 will be demonstrated at two upcoming trade shows:

o Prime Source March 31 - April 2, Hong Kong Convention and Exhibition Center, Avery Dennison Stand No: PA A12.

o IMB, Cologne, German, April 21 - 24, 2009. At the show, Avery Dennison will occupy Stand B050/C053, in Hall 8.1.

Versatility

The SNAP 700's ability to produce the most commonly used apparel tag, label and ticket types expands the production capabilities of apparel contractors without the need for additional printing equipment. The system comes with a 5-in. wide print head to accommodate a broad range of label sizes and is available in a two-side printing configuration for added functionality.

Print speeds reach 12 inches (305mm) per second for paper stocks and 7 inches (178mm) per second for fabric care label stock. SNAP 700 rapidly and efficiently prints, cuts and stacks coated and uncoated integrated hang tags, fabric care labels, bar code labels, heat transfers, pressure sensitive size stickers, price labels, shipping labels...and more. An optional bar code verifier stops production upon detection of an unreadable bar code.

Reliability

The SNAP 700 is designed for reliable performance under heavy usage conditions and in challenging operating environments. The system offers easy access to print heads for routine cleaning, a practice that increases service life and simplifies measures to optimize print quality if an adjustment should become necessary.

Easy to Use

Several advanced features make the new SNAP 700 easy to use. For example, the unit's onboard control panel has a "voice" button. When pushed, instructions in seven available languages communicate steps necessary for system operation. The system's PC-based software is equipped with a virtual control panel that permits a variety of adjustments, including those for print placement, cut positions and tension rates on ink ribbons and labels. SNAP 700 also allows easy threading and rapid change-out of ink ribbons and tag stocks. These ease-of-use features keep experienced operators productive and simplify training for new operators.

SNAP 700 prints from any Windows® application or, by using the correct layout and data commands, from a mainframe. Most factories will want to use Avery Dennison's own PCMateTM Platinum tag and label printing software, which has been designed specifically for the apparel industry and comes with the printer. The system can also be driven by other third-party software packages.

"You don't need to be an expert to run this printer," Moliski notes. "We performed a lot of customer analysis during the design stage. This included evaluating what steps and motions users go through to print labels, and learning what devices they desired beyond the basic start/stop button. We took that input and designed a system that simplifies the process of printing labels and expands the production capabilities of apparel contractors."

About Avery Dennison Corporation

Avery Dennison is a recognized industry leader that develops innovative identification and decorative solutions for businesses and consumers worldwide. The Company's products include pressure-sensitive labeling materials; graphics imaging media; retail apparel ticketing and branding systems; RFID inlays and tags; office products; specialty tapes; and a variety of specialized labels for automotive, industrial and durable goods applications. A FORTUNE 500 Company with sales of $6.7 billion in 2008, Avery Dennison is based in Pasadena, California and employs more than 36,000 employees in over 60 countries.

Visit: www.ibmd.averydennison.com


More from Packaging Products & Equipment