Label Printer has user changeable print head.
Press Release Summary: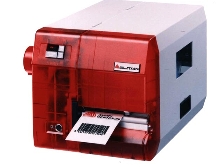 TTX 674/675 prints 300 dpi bar codes, graphics, and human readable copy on product ID tags and labels at 12 in./sec. It has most popular bar codes and 17 standard and 2 scalable fonts. Printer processes cardboard, plastic, self-adhesive, and fanfold labels. Options include cutter/stacker and label rewinder. Users can change print head by loosening two screws. TTX 674 has 4.2 in. print width; TTX 675 has 5 in. print width. Both handle labels up to 6.16 in. wide.
---
Original Press Release:

New 300-dpi Printer with User-Changeable Print Head Provides Reliable Operation in Batch Product ID Labeling Applications


Printer meets requirements for hard goods, soft goods, food processing, carton labeling, retail and distribution center applications

A new versatile, highly reliable printer with a user-friendly design and quick-change print head is now available from Avery Dennison Printer Systems Americas. The product, called the AVERY DENNISON(TM) TTX 674/675 Printer, prints bar codes, graphics and human-readable copy on product ID tags and labels, at sharp 300-dpi resolutions. Maximum print speed is 12 inches per second. The versatile printer meets product ID requirements for hard goods, soft goods, food processing, carton labeling, retail and distribution center applications.

"The AVERY DENNISON(TM) TTX 674/675 offers exceptional performance in batch labeling and reticketing applications," says Joe DiGiovanni, sales manager, Avery Dennison Printer Systems Americas. "The printer has a number of convenient features that equip it for extended, low-maintenance operation."

The system's user-replaceable print head minimizes downtime. Users can quickly change the print head simply by loosening two screws. No expert assistance or special tools are necessary.

The printer's ribbon-save mechanism conserves ribbon on portions of the label that are not printed. This feature, together with a 600-meter ribbon supply, permits extended operation without ribbon changes.

The AVERY DENNISON(TM) TTX 674/675 is equipped with an extensive library containing popular bar codes and 17 standard and two scalable fonts. It processes a wide range of label materials and varieties, including cardboard, plastic, self-adhesive and fanfold labels. The printer is available with an optional cutter/stacker and label rewinder for more efficient handling of printed labels.

It comes in two versions, each with a different print width. The AVERY DENNISON(TM) TTX 674 has a 4.2-inch print width; the AVERY DENNISON(TM) TTX 675 has a 5-inch print width. Both printers handle tag and label widths up to 6.16 inches.

The AVERY DENNISON(TM) TTX 674/675 is offered through Avery Dennison Printer Systems Americas, a division of Avery Dennison Retail Information Services. Avery Dennison Printer Systems Americas supports global customers through a network of divisions throughout Europe, Asia and the Americas.

Avery Dennison Retail Information Services offers worldwide solutions to industry for product identification. Products and services include Web-based supply chain management solutions, service bureaus, in-house imprinting systems and software, fully and partially preprinted tags, labels and label forms, sequential bar code tags and labels, electronic article surveillance (EAS) tags and labels, fastener products and consulting services. Major markets include retail, apparel, softlines and hardgoods.

Visit: www.ris.averydennison.com

Avery Dennison Printer Systems Americas
7722 Dungan Road
Philadelphia, PA 19111
PH 215-728-8033
FX 215-725-6850
www.ris.averydennison.com

Attention: Joe DiGiovanni
joe.digiovanni@averydennison.com

7722 Dungan Road; Philadelphia PA 19111-2733; Phone 215 725-4700; FAX 215 728-8921

Related