Label Marking System meets demands of automotive manufacturers.
Press Release Summary: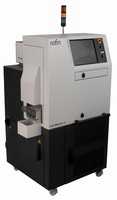 Featuring 800 x 800 mm footprint and rated IP54, LabelMarker E includes automatic foil feeding with sensors for detection of foil jam, start and end of foil, and splice recognition. It can accept roll widths of 100 or 120 mm with maximum diameter of 300 mm, process foil between 0.1 and 0.25 mm thick, and has marking field of 180 x 140 mm. Pneumatically operated label cutting system and 30 W solid-state Rofin laser are included, as well as built-in HMI and touchscreen.
---
Original Press Release:

Rofin LabelMarker E - The Mark of Excellence



The latest turnkey label marking system from Rofin has been designed around the stringent demands for high speed, reliability and high up-time required by automotive manufacturers world-wide.

Tough, compact and operator friendly
The fully integrated LabelMarker E is manufactured to IP54 standards and is therefore suitable for use in tough industrial environments. All of the elements required to produce a wide range of labels are incorporated within the compact 800mm x 800mm footprint of this system. The system includes fully automatic foil feeding with sensors for the detection of foil jam, start and end of foil, together with splice recognition. The system also incorporates a pneumatically operated label cutting system to separate individual labels at the end of the marking process.

The LabelMarker E can accept roll widths of 100mm or 120mm with a maximum diameter of 300mm and foil between 0.1mm and 0.25mm in thickness can be processed. A large marking field of 180mm x 140mm allows many different label types and sizes to be produced. Categorised as a - class 1 laser safety system - means no further safety requirements need to be addressed when using this system in the production environment. Typical applications for LabelMarker E include the production of tamper evident labels which are attached to vehicles. Essential information such as fuel type, tyre pressure settings and VIN data is entrusted to these non-transferrable and permanent labels for the lifetime of the vehicle. These laser marked labels have the capacity to withstand high temperatures, solvents and weathering and are ideally suited to under bonnet applications including attachment to the engine block. Any attempt to remove this type of label will result in damage or destruction of the label, ensuring that the label cannot be removed from one item and fixed to another.

Fast and reliable
A powerful 30W solid state Rofin laser ensures fast cycle times are achieved from this system. The built in HMI and touch screen allow full control of the parameters to be used for marking and means that graphics and machine readable codes can be marked in addition to text.

The LabelMarker E offers high reliability and uptime based upon Rofin's extensive experience in the design, manufacture and ongoing support of industrial laser systems.

Rofin offers a comprehensive range of lasers including CO2, Nd:YAG, Vanadate and Fibre Lasers. Rofin also provides laser solutions and systems for cutting and welding applications.

Contact:
Mr. Mike Batchelor
Sales Manager - Marking Division
Rofin-Baasel UK Ltd
Sopwith Way
Daventry
Northamptonshire. NN11 8PB
Tel +44 (0) 1327 701 100
Fax +44 (0)1327 710 110
E-mail: [email protected]
Website: www.rofin.co.uk