Microelectromechanical Systems (MEMS)
Lab-on-Chip enables rapid bacterial diagnosis.
Press Release Summary: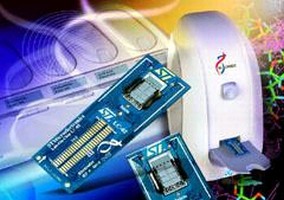 Designed for DNA-based detection of sepsis-causing bacteria, lab-on-chip is based on In-Check platform with diagnostic panel from Mobidiag. In-Check has integrated low-density microarray and amplifies clinically relevant DNA samples by PCR analysis. Microreactors buried in MEMS chip carry mixture of sample and reagents, while on-chip heating elements perform temperature cycling. Chip interfaces to thermal control system that actuates, monitors, and adjusts parameters of reaction.
---
Original Press Release:


STMicroelectronics and Mobidiag Unveil Lab-on-Chip for Rapid Bacterial Diagnosis




Faster, less expensive, and more accurate detection of infectious diseases will lead to better treatment choices

ST at Chips- to-Hits, Boston Convention & Expo Center, 12-15 September, Booth #402

Boston, September 14, 2005 - STMicroelectronics (NYSE: STM) and Mobidiag today introduced a new lab-on-chip application for DNA-based detection of sepsis-causing bacteria, using a diagnostic panel from Mobidiag that runs on ST's In-Check platform. Providing faster and more reliable results at a fraction of cost and complexity of conventional laboratory systems, the miniaturized compact solution enables early detection of disease, resulting in better treatment choices for patients and lower overall costs to the healthcare systems.

The In-Check platform hosts a pathogen panel developed by Mobidiag to identify ten sepsis-causing bacterial species as well as methicillin-resistant strains of Staphylococcus aureus from positive blood culture samples. The diagnostic panel has been designed to optimize the choice of antibiotic therapy in combination with results from Gram-staining, an empirical comparative method of differentiating bacterial species. As a result, highly accurate and rapid results from the ST/Mobidiag solution will reduce the risks of antibiotic misuse and help physicians select the right treatment as early as possible.

ST In-Check lab-on-chip platform amplifies clinically relevant DNA samples by Polymerase Chain Reaction (PCR) and has an integrated custom low-density microarray. Microreactors buried in the micro-electro-mechanical-system (MEMS) chip carry the mixture of sample and reagents, while on-chip heating elements perform the temperature cycling. Silicon's low thermal capacity and the In-Check design features significantly reduce reaction times and costs, compared with standard laboratory equipment. The risks of cross-contamination inherent in conventional analysis methods are minimized, too, as the PCR and analysis is performed on chip in an encapsulated, self-contained unit.

The lab-on-chip interfaces to the Thermal Control System (TCS) that actuates, monitors, and adjusts the parameters of the reaction. The TCS unit comprises five control modules with independent thermal protocols and random access capability. Optical signal acquisition is performed by a dedicated portable reader and processed by ST's specialized bioinformatics software, which can be installed on any PC and operates with Mobidiag's clinical reporting user interface. This software package allows users to easily monitor and control the reaction processes, analyze the results, and generate reports compliant with MIAME (Minimum Information About a Microarray Experiment) standards for unambiguous interpretation of data from DNA tests.

"The unique combination of ST's leading-edge semiconductor and MEMS expertise with Mobidiag's know-how in microbiological diagnostics opens new possibilities for effective detection and treatment of infectious diseases at the point of need," said Anton Hofmeister, Group Vice-President and General Manager for ST's Microfluidic Division. "We believe that affordable, user-friendly, and portable devices like the In-Check are set to make a critical difference in a growing number of diagnostic applications."

"Early detection of systemic bacterial infections is essential for the successful management of antibiotic therapy, and we look forward to addressing the needs of laboratories that perform millions of blood cultures every year in our target markets," added Jaakko Pellosniemi, CEO of Mobidiag. "The In-Check platform is ideally suited to exploit the advantages of Mobidiag's unique diagnostic microbiological panels. Our product will markedly improve the quality of treatment choices, leading to better patient outcomes and reduced healthcare costs."

After one year of joint development based on early prototypes, first units of In-Check lab-on-chips together with the control instruments are now shipping to Mobidiag for validation. Clinical trials are planned for early 2006, with the final product including validated controls, assay optimization, and diagnostic reporting software to be launched later next year.

About Mobidiag
Mobidiag, based in Helsinki, Finland, develops proprietary biochip assays for common infectious diseases, such as sepsis, pneumonia, and meningitis. In addition to bacterial pathogens the company has also developed methods to identify antibiotic resistance markers with biochip technology. In the longer term, Mobidiag will focus on providing rapid point-of-care (POC) solutions for diagnosing high-incidence outpatient diseases, including respiratory and urinary infections. Further information on Mobidiag can be found at www.mobidiag.com.

About STMicroelectronics
STMicroelectronics is a global leader in developing and delivering semiconductor solutions across the spectrum of microelectronics applications. An unrivalled combination of silicon and system expertise, manufacturing strength, Intellectual Property (IP) portfolio and strategic partners positions the Company at the forefront of System-on-Chip (SoC) technology and its products play a key role in enabling today's convergence markets. The Company's shares are traded on the New York Stock Exchange, on Euronext Paris and on the Milan Stock Exchange. In 2004, the Company's net revenues were $8.76 billion and net earnings were $601 million. Further information on ST can be found at www.st.com.


More from Material Handling & Storage