Lab Evaporators feature stainless steel sample holder.
Press Release Summary: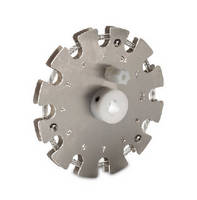 For resistance to solvents at high temperatures, N-EVAP Nitrogen Evaporators feature 316 stainless steel sample holders. Each model is able to concentrate range of test tube sizes without need for custom sample blocks and inserts. Sample holder allows sample vials of different sizes to be loaded from front of instrument without additional hardware. In addition, N-EVAP systems can process samples of different sizes simultaneously.
---
Original Press Release:

Organomation Upgrades Sample Holder in Popular Lab Evaporator



Organomation is happy to announce that the sample holders used in the company's popular N-EVAP product line have been upgraded.  The company stands behind the quality of their products and looks to consistently strengthen the brand's reputation for producing long lasting laboratory evaporators and extractors.



These sample holders will now be produced with 316 stainless steel which is more resistant to solvents at high temperatures than the grade of steel utilized previously.  If the evaporator is being operated with highly corrosive solvents, Organomation recommends that laboratories utilize one of the Teflon coated N-EVAP models.



Unlike other nitrogen evaporator product lines, the N-EVAPs are designed to provide maximum flexibility and individualization.  Each standard N-EVAP model is able to concentrate a range of test tube sizes without the need for custom sample blocks and inserts.  The N-EVAP's unique sample holder allows sample vials of different sizes to be conveniently loaded from the front of the instrument without any additional hardware.  The N-EVAP is able to process samples of different sizes at the same time which evaporators designed for batch processing simply cannot do.



Also, the expense of sample blocks and inserts required by other lab evaporators can add considerable cost, especially considering that these required accessories are not always included in quote for the base instrument.  Laboratories wanting to concentrate multiple sample sizes with one evaporator could end up paying hundreds of dollars in hidden costs.



The N-EVAP product line is just one of three types of nitrogen evaporators produced by Organomation.  The company also manufactures a line of solvent evaporators which can recover up to 97% of starting solvent volume with either the individual or central solvent collection option.



Company background: 

Since 1959, Organomation has been a leading provider of analytical chemistry sample preparation solutions. The company has provided quality hand-built equipment and unparalleled levels of customer service since their inception. The foundation of the company stems from the first ever commercially successful nitrogen evaporator invented by Organomation's founder, Dr. Neal McNiven.



Throughout the years, Organomation has expanded upon their product lines while providing a superior laboratory product at affordable prices.  Organomation is well known for their lines of nitrogen evaporators, solvent evaporators and solvent extraction instruments.



Contact:

David Oliv

davido@Organomation.com

(978) 838-7300

More from Software