La-Z-Boy, Known for its Stylish Furniture, Displays a New Great-Looking Full Color LED Sign from Electro-Matic Visual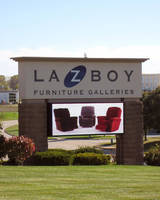 La-Z-Boy is known for their durable and stylish living room with great-looking, up-to-date, customizable furniture that has been born and built in the USA for over 85 years. When the La-Z-Boy in Davenport, Iowa was looking to enhance their current sign to attract more customers into their store, they looked to Electro-Matic Visual and Acme Sign Company to help them with their goal. Acme Sign Company and Electro-Matic were able to provide them with a Full Color, 16mm, HyperionPlus™ LED display.



La-Z-Boy, has networks of stores nationwide, and with their broad offering of many different furniture categories, they wanted to be able to make sure they maximized the impact of their product presentation, quickly and effectively. With this new LED Sign, they are able to provide their current and potential customers with up-to-date information on promotional items, new items and even store events.



"The furniture images on the HyperionPlus™ LED Displays look awesome. We were once again very pleased with the product from Electro-Matic," said Doug Jarvis of Acme Sign Company.



La-Z-Boy is focused on the future and also committed to moving their iconic brand forward, on U.S. soil; the same soil where the HyperionPlus™ LED Displays are built. Electro-Matic has been around for over 40 years and is proud of the relationships they have built with local U.S. sign companies.



"Doug and the team at Acme Sign Company continue to enhance their local market place with our brand of HyperionPlus message centers," said James Baker, Commercial Sales Manager of Electro-Matic Visual, Inc. "We were thrilled to help on this project and support a National Brand such as La-Z-Boy."



More from Electrical Equipment & Systems