L-com Debuts Right Angle USB Mini B5 and Micro B Cables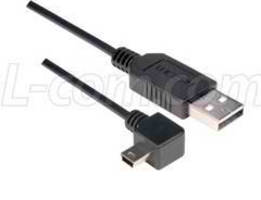 NORTH ANDOVER, MA - L-com, Inc., a designer and manufacturer of wired and wireless connectivity products, has released two new lines of right angle USB cables, with mini B5 male or micro B connector options. The move comes as L-com continues to expand its extensive right angle product offering, with popular solutions like Ethernet, DVI, HDMI, D-Subminiature, and fiber optic right angle cable assemblies.

Right angle USB cables and adapters are not new to L-com. Last November, the company released right angle mini B5 adapters to support the demand, and plans to release right angle micro B adapters in July. The company first announced it would carry two right angle products for USB in May, 2009, and in the ensuing 36 months its offering has expanded to more than 100 unique items.

"Over and over what we are hearing is engineers and technicians want right angle USB for their designs and projects," said Steve Smith, Product Manager. "Designing right angle cables that meet the USB 2.0 standard took some effort, but I'm very proud of the results. We now have one of the most extensive right angle USB offerings available."

Along with the release of the new cable assemblies, L-com posted helpful "Angled USB Cables" tips to help customers purchase the correct part. The company has also announced that it will offer custom length cables with the right angle USB mini B5 or micro B connectors upon request.

For more information about this release, please contact:

Dave Fallon, Internet Marketing Strategist

978-682-6936 x1450, newsletters@L-com.com

L-com, a global designer and manufacturer of wired and wireless connectivity products, offers a wide range of solutions and unmatched customer service for the electronics and data communications industries. The company's product portfolio includes cable assemblies, connectors, adapters, computer networking components, and custom products, as well as the Hyperlink line of wireless products. Trusted for more than 30 years, L-com, Inc. is headquartered in North Andover, Mass., and is ISO 9001: 2008-certified. For more information, please visit: http://www.L-com.com/

Friendly & Knowledgeable Service o In Stock Availability & Same Day Shipping o 100% Satisfaction Guaranteed

Our mailing address is:

L-com 45 Beechwood Dr., North Andover, MA 01845 USA

© L-com, Inc. All Rights Reserved. L-com Global Connectivity and the L-com logo are registered marks.


Related