KXTJ3 Accelerometer features built-in voltage regulator.
Press Release Summary: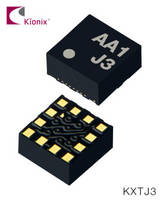 Used in pet monitors, smart tags, beacons and key fobs, KXTJ3 Accelerometer can operate with low 1.5uA at its lowest ODR of 0.781Hz. Offering g-ranges of 2g, 4g, 8g, or 16g and resolution modes up to 14g, unit comes in 2mm x 2mm x 0.9mm form factor. Featuring embedded motion wake-up engine with 3.9mg threshold, unit supports I2C protocol up to 3.4MHz.
---
Original Press Release:
Kionix's New KXTJ3 Accelerometer
Uncompromising performance and value in a single package
Kionix, a ROHM Group Company, announces the release of the KXTJ3, a new 3-axis accelerometer offering unprecedented value while providing the performance of much a more expensive accelerometer in a tiny, 2mm x 2mm x 0.9mm form factor.
CEO Nader Sadrzadeh states, "The original idea was to take everything that made our KXTJ2 (Kionix's best selling accelerometer) so successful, and add even more value. With the new KXTJ3, we're offering the market a high performance -- highly reliable accelerometer in a package that is both sized and priced to be embedded in anything and everything, from toys, wearables, remote controls to the SmartHome and IoT."
The KXTJ3 is a drop-in replacement for the KXTJ2, and offers improvements in a number of aspects, from better noise performance to extended range, to improve interrupt functionality.
A common use case of accelerometers is for power savings, allowing the system to sleep when there is no motion and then triggering the system to wakeup when motion occurs. The KXTJ3 has a high resolution embedded motion wake-up engine offering thresholds as low as 3.9mg. It can also operate as low as 1.5uA at its lowest ODR of 0.781Hz.
Other use cases for accelerometers include detecting device orientation relative to gravity, enabling a more natural user-experience and interactivity, and fostering automation by providing awareness and context of a device or its use.
Adds Sadrzadeh, "It is an incredible time we're in, with sensors in applications such as pet monitors, smart tags, beacons, key fobs -- its almost difficult to find applications that don't benefit from the addition of sensors."
The KXTJ3 offers g-ranges of 2g, 4g, 8g, or 16g and resolution modes up to 14g. It supports the I2C protocol up to 3.4MHz and has a built-in voltage regulator offering stable operation from 1.71 to 3.6V.
For more information, please contact: John Chong Vice President of Product and Business Development Kionix, Inc. jchong@kionix.com
About Kionix
Kionix, Inc., a global MEMS inertial sensor manufacturer based in Ithaca, NY, USA, offers high-performance, low-power accelerometers, gyroscopes, and 6-axis combination sensors plus comprehensive software libraries that support a full range of sensor combinations, operating systems and hardware platforms. Leading consumer, automotive, health and fitness and industrial companies worldwide use Kionix sensors and total system solutions to enable motion-based functionality in their products. Kionix is ISO 9001:2008, TS 16949, and TS 14001:2004 certified. Kionix is a wholly owned subsidiary of ROHM Co., Ltd.
More from Communication Systems & Equipment