Kwik-Lok Lifting Pins Offer Superb Performance in Demanding Applications and Harsh Environments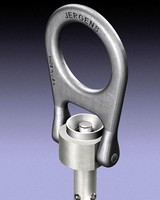 CLEVELAND, OH - June 3, 2008 - Jergens, Inc.'s Kwik-Lok(TM) Lifting Pins provide convenience, speed, and safety in challenging applications and environments. When quick-change connections are required for material handling, construction, utilities, rigging or other applications, Kwik-Lok(TM) Lifting Pins deliver confident lifting.

Expertly engineered to provide a 5 to 1 strength factor, these lifting pins are 100% stainless steel, with a 17-4 PH stainless steel forged lifting ring to resist corrosion in harsh environments. The rings' large opening accommodates a wide range of lifting hooks or hardware. A load spreader bar on each of the rings helps to prevent accidental actuation.

Maximum lifting loads from 400 to 1400 lbs. are accommodated by a wide range of pins available in both inch and metric sizes. In inches, nominal pin diameters range from 1/4" to 5/8" and grip lengths range from 0.5" to 3.00". (Grip length is the thickness of the part being lifted.) Metric lifting pins are available with nominal pin diameters of 10 to 16 mm, grip lengths of 15 to 75 mm, and maximum lifting loads from 4.4 to 6.2 kN.

With Kwik-Lok(TM) Lifting Pins, Jergens has merged two of its major product technologies: lifting hardware and quick release pins.

All Kwik-Lok(TM) products are made in the USA of domestically produced materials. For applications where the required hole size cannot be achieved, threaded receptacles are available in both inch and metric sizes.

Founded in 1942, Jergens, Inc. has grown into four separate operating divisions providing superior engineered solutions and products: "The standard components with the highest standards." The Jergens Difference might be better engineering or better service but the result is always the same-a better solution for our customers. Jergens is an ISO 9001:2000 certified company.

For more information, please contact Jergens, Inc. at Jergens Way, 15700 S. Waterloo Road, Cleveland, OH 44110-3898. Phone: 216-486-5540 or toll free: 800-537-4367; Fax: 216-481-6193. On the Web: www.jergensinc.com. E-mail: info@jergensinc.com.


More from Electronic Components & Devices