KVM Switches save space on cluttered desktops.
Press Release Summary: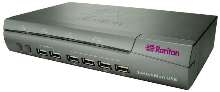 Featuring plug-and-play functionality, SwitchMan SW2-USB and SW4-USB switches allow users to control up to 4 computers with one keyboard, monitor, and mouse console. They provide control over peripheral equipment via push-button controls on switch or hot-key commands from PC keyboard and let users share PC peripherals. SwitchMan Cable Plus (SW2-CP) switch lets users manage 2 PCs or Mac workstations from 1 PS/2 console via 6 ft KVM cables.
---
Original Press Release:

Cluttered Desktops Find Cure with Raritan's New KVM Switches


SwitchMan® USB and SwitchMan Cable Plus Save Workers Desktop Space and Money with Equipment Sharing Capabilities --

SOMERSET, NJ (September 20, 2004) - Raritan Computer, Inc. -- a leading supplier of KVM (keyboard, video, mouse) equipment and remote IT infrastructure management solutions - today announced that it has added three new models to its SwitchMan® product line to help small businesses and consumers better manage the computer equipment that clutters their desktops.

Offices are getting crowded due to the proliferation of PC accessories and workers purchasing new PCs, while holding onto older PCs that contain valuable data and programs. Many home offices have multiple PCs and multiple corresponding keyboards, mice, and speakers, as well as a printer, scanner, digital camera, a PDA docking station and an external storage device.

With Raritan's new slim and compact SwitchMan USB KVM switch, users can save space and money by controlling up to four computers with a single keyboard, monitor and mouse console - as well as peripheral equipment, such as printers, digital cameras, iPODs®, scanners, and external drives. It also enables several workers to share PC peripherals.

With SwitchMan USB, office workers can control connected computers -- including PCs and Apple® Macintosh® workstations -- and USB (Universal Serial Bus 2.0 and 1.0) peripheral equipment by either using push-button controls on the switch or hot-key commands from the PC keyboard. In addition, SwitchMan's audio switching capabilities enable multiple computers to share a microphone and one set of speakers. SwitchMan USB is available in two basic models supporting two and four PCs and USB devices.

Also introduced today is the SwitchMan Cable Plus (SW2-CP) switch that provides one of the most cost-effective ways to manage two PCs (or Mac workstations) from a single PS/2 console. The size of a deck of cards, the SwitchMan Cable Plus connects two PCs with its integrated six-foot KVM cables.

"We have taken proven KVM switching technology and expanded its management capabilities to include today's popular USB-based PCs and high-speed peripherals, such as camcorders, iPods and digital cameras," said Peter Suriani, Director of Product Management at Raritan Computer. "Users can easily control multiple computers and devices, while eliminating the expense of purchasing several sets of keyboards, mice, monitors and speakers. SwitchMan also enables sharing of peripherals and audio devices between workers in small offices running different types of servers and workstations."

Designed for easy set-up and use, users just plug their computer's USB keyboard, USB mouse, and VGA monitor, and other USB equipment, into Switchman USB. Both SwitchMan USB models can be setup horizontally or vertically on desktops and come with two premium KVM cables for high performance and video resolution. No software installation or configuration is required. An optional adapter is required for use with Macs.

All three SwitchMan models (SW2-USB, SW4-USB and SW2-CP) are available worldwide and come with everything required to be up and running in minutes. Additional product details are available on Raritan.com.

About Raritan Computer

Raritan Computer Inc., based in Somerset, N.J., is a leading supplier of IT infrastructure management solutions for secure access, monitoring, and management of servers and other IT devices in data centers and remote offices. Raritan's products are used to control and manage millions of servers at more than 50,000 data centers, computer test labs, and other sites around the world. From the small business to the enterprise, Raritan's complete line of compatible and scalable digital and analog KVM, serial console, and remote connectivity products offers IT professionals the most reliable, flexible, and secure solutions to manage IT equipment, while improving operational productivity. Raritan's Peppercon OEM division develops, manufactures and markets advanced, hardware-based, remote-management products based on digital KVM-over-IP and IPMI technology. Founded in 1985, Raritan has experienced 19 consecutive years of profitable growth and technical innovation. Raritan has 32 offices and its products are distributed in 76 countries. More information on the company is available at Raritan.com.

More from Sensors, Monitors & Transducers