KVM Switch handles up to 16 computers or servers.
Press Release Summary: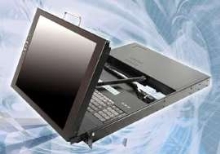 Featuring dual sliding rails for independent keyboard and monitor movement, Model DMK 590 is housed in industrial-mounted console drawer with keyboard, mouse, and 17 in. monitor that fold down to fit into 1U slot of 19 in. rack system. Each switch supports 8-character password protection, PC server name search, and auto-scanning modes for monitoring PC's. Viewable from 160º side-to-side, flat panel TFT LCD screen offers 1,280 x 1,024 resolution.
---
Original Press Release:

New 16 Port KVM Switch in Console Drawer Mounts Keyboard and 17 Inch Monitor on Independent Rails in 1U High Space


AZUSA, Calif. (August 3, 2005) - Acme Portable Machines, Inc., a leading provider of rugged portable computers, today introduced a new 19" rack mounted KVM switch with dual sliding rails for the independent keyboard and monitor movement. The new switch, the DMK 590, is an industrial mounted console drawer with a slim KVM switch, keyboard, mouse and 17" monitor that fold down to fit into a 1U high slot of a 19" rack system. The new switch can handle up to 16 computers, servers and like devices and can be linked up to other KVM switches to extend control to additional systems common in medium and large-scale computer rooms of computer telephony, storage area networks and web server applications.

The advantage of the DMK 590 is the use of dual rails that allow users to slide just the monitor out or the keyboard or both. Typical rack mounted KVM switches require users to slide and leave out the switch, keyboard and monitor. DMK 590 users simply slide out the monitor and keyboard, position the monitor so it is upright and viewable, and push the keyboard back into the rack leaving the monitor visible and flush with the rest of the rack. Accessing attached devices only requires pulling out the keyboard and slipping it back in when not being used. This allows technicians easy monitoring of entire racks without drawers being left in the pulled out open position presenting a cleaner, safer and more organized environment.

By daisy-chaining additional DMK 590 KVM switches, technicians can monitor up to 64 devices simultaneously for a straight forward, easy method of monitoring entire networks. Technicians can easily switch between attached devices from front push buttons, Hot Keys or the On Screen Display. Each DMK 590 KVM switch supports eight-character password protection, PC server name search, and auto-scanning modes for monitoring PC's. Viewable from 160º side to side, the 1280 x 1024 17" monitor is a flat panel TFT LCD screen with anti-glare tempered glass for added protection to the LCD screen (15" monitors are also available).

Price And Availability
The DMK 590 meets EIA 310c and IEC-3 specifications and UL, CE and FCC safety approvals and is compatible with DOS, Win3.X, Win 95/98/98SE/2000/ME/XP, WinNT, Netware, SCP Unix, HP Unix and Linux. The DMK 590 is priced at $1,999 and is available upon requested orders.

About ACME Portable Machines, Inc.
With worldwide headquarters located outside of Los Angeles in Azusa, California, ACME Portable Machines, Inc. was founded in 1994, to meet the computing needs of extreme environments whether they are in Aerospace, a crime scene location or on an industrial manufacturing plant floor. The company manufactures a broad line of hardy computers and workstations, portable laptop computers also known as lunchbox portables, all-weather keyboards, rackmount displays and keyboards and small and large flat panel displays/kiosks. All products are designed to be integrated with upcoming new technologies offering systems that mean more than just a tool on the road but an investment into the future.

ACME portables have been real life tested and proven effective in meeting the most demanding environments and excel in critical applications such as data acquisition, analyzing LAN/WAN and telecommunication signals, industrial and manufacturing, medical field for diagnostics, onboard and flight line aerospace applications and just plain computing.

Outside of the United States, the company supports its customers and OEM/ODM partners through direct subsidiaries in Europe and Asia and trained distributors worldwide. For additional information on ACME Portable Machines, Inc. and its products, customers can contact the sales department at 1330 Mountain View Circle, Azusa, CA 91702 phone 626.610.1888 fax 626.610.1881 e-mail at sales@acmeportable.com. The company is on the World Wide Web at www.acmeportable.com.

More from Agricultural & Farming Products