Kurt's New High Density HDL Vises And Towers And DockLock Zero-Point Positioning System Will Be Exhibited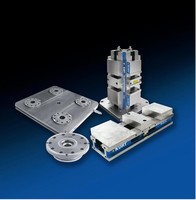 At IMTS 2006, McCormick Place, Booth E-2749

Minneapolis, Minnesota: Kurt's 2006 IMTS Exhibit will feature new ways to improve machining productivity with a full of array of workholding products that provide precise repeatable part clamping solutions for a broad range of manufacturing applications.

New HDL Double Station Vises And ClusterTowers(TM) Have Machinable
Quick Change Jaws For Flexible And Fast Setups

Designed to provide the most efficient workholding for fastest part-to-part machining time, Kurt's HDL Vises and ClusterTowers provide repeatable clamping to 0.001 inch. Both manual vises and towers deliver up to 6,316 lbs. of clamping force at 70 lbs. of torque. They feature 80,000 PSI ductile iron bodies with precision machined steel components and are available with quick change machinable aluminum, cast iron and hard jaws.

Available in manual and hydraulic models, HDL Vises and Towers give today's machinists the most options for high density applications. Because they are built by Kurt, the originator of the precision machine vise, HDL workholding products provide the ultimate in rugged strength, extra rigidity and long-term accuracy while absorbing machining vibration.

Kurt VB DockLock® Zero-Point Workholding System Designed
For Workholding Changes In Seconds

Another workholding technology first is Kurt's VB DockLock Zero-Point workholding system. It provides the fastest, most accurate and repeatable method for making setup changes on all types of horizontal and vertical machining centers. This system provides repeatable position accuracy of ±0.0002 inch on typical part runs, high quality part finishes, no scrap parts and huge time savings . A typical workholding setup change usually requiring 20 minutes is done in less than 2 minutes with the Kurt VB DockLock.

Kurt is the "must see" IMTS destination for the latest Workholding Systems Technology, September 6-13, Booth E-2749, McCormick Place, Chicago, Illinois.
Or for immediate information, visit www.kurtworkholding.com
Email: workholding@kurt.com
Call, 1-800-328-2565 for FREE brochure. Outside USA and Canada, call 1-763-572-4424.

Write to Kurt Manufacturing Company, Industrial Products Division, 1325 Quincy Street NE, Minneapolis, Minnesota 55413. In USA, Fax 1-877-226-7828. Outside USA, Fax 1-612-623-3902.

More from Mounting & Attaching Products