KSNV Purchases JVC GY-HM890 PROHD Cameras to Allow Live HD Streaming for ENG Crews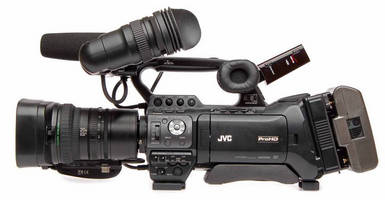 WAYNE, NJ – JVC Professional Products Company, a division of JVC Americas Corp., today announced KSNV, the NBC affiliate in Las Vegas, Nev. (DMA #42), has ordered 16 GY-HM890 ProHD shoulder-mount camcorders for ENG use. According to Tony Somma, director of broadcast engineering and technology, the new camera's ability to transmit live HD footage or allow FTP file transfer back to the station using a 4G LTE modem was a major selling point.



"Being able to get news back to the station in a timely manner is extremely important," Somma said. "As we evolve into a more file-based system it just makes sense to go with the GY-HM890s for the ENG side of things."



Local news is a priority at KSNV, with more than nine hours of local news each weekday and the addition of more news programming coming in the fall. The station has two news studios including one that opened last September. The station equipped them both with JVC GY-HM790 ProHD cameras. KSNV is the flagship station of Interrmountain West Communications Company, headquartered in Las Vegas with stations in Nevada, Montana and Idaho.



The GY-HM890s will replace aging Grass Valley Infinity cameras. Somma is pleased to be moving to SDHC and SDXC media cards for recording. He also praised the new camera's dual media card slots, which allow the photographer to record full HD footage while simultaneously recording a Web-friendly file. "We want to be able to get news on the Web at the same time or before it hits our air. The HM890's functionality is very cool."



During camera tests, Somma said KSNV's photographers praised the GY-HM890's weight and balance, as well as its interchangeable Fujinon 20x autofocus zoom lens. "The optics make a very nice, crisp picture, and the low-light performance is very impressive," he added.



ABOUT JVC PROFESSIONAL PRODUCTS COMPANY

Headquartered in Wayne, New Jersey, with West Coast operations in Long Beach, California, JVC Professional Products Company is a division of JVC Americas Corp., a wholly-owned subsidiary of JVC Kenwood Corporation. JVC is a leading manufacturer and distributor of broadcast and professional video and audio equipment, D-ILA front projection systems, and Super LoLux HD video security products. For further product information, visit JVC's Web site at http://pro.jvc.com or call (800) 582-5825.

More from Machinery & Machining Tools