Kontron Receives PTCRB Certification on Its M2M Smart Services Developer Kit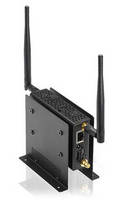 Certification demonstrates compliance with mobile network operator requirements and helps streamline M2M application carrier approvals

Eching, Germany - Kontron today announced that it has received PTCRB certification on its KM2M800 family of Machine-to-Machine (M2M) Smart Services Developer Kits. PTCRB certification ensures that the GSM/W-CDMA devices within the Kontron KM2M800 family are compliant with the defined technical specifications in the NAPRD (North American Permanent Reference Document) to meet network operator requirements for safe operation. The PTCRB is a global organization of mobile network operators with the purpose of implementing independent, technical and standards-based evaluation processes for GSM/UMTS network-type certification. 7Layers is the authorized third party laboratory that conducted the testing on the Kontron KM2M800 series system within the developer kit.

"Kontron, in collaboration with our partner Intel, took the proactive step of PTCRB certification to help our M2M application developer customers streamline the process of carrier approval and their own PTCRB certification before the application can be launched on a carrier network," said Kevin Rhoads, Vice President, Embedded Products Business Unit, Kontron. "PTCRB certification is an important milestone for Kontron's M2M systems that will give our customers the assurance they need to facilitate the quick time-to-market of their own solutions. To further support our customers who use CDMA networks, we have also initiated additional certification processes for CDMA with major network carriers."

The Kontron M2M Smart Services Developer Kit features a COM Express® mini Kontron Computer-on-Module COMe-mTT10 powered by an Intel® Atom(TM) processor and includes a M2M System Carrier Board and an AV board to support headed configuration use. Enabling the quick development of wireless connectivity solutions, the kit supports 802.11a/b/g/n WLAN (wireless local area network) and 802.15.4 WPAN (wireless personal area network). Customers have the option to add 3G WWAN (wireless wide area network) that can either be pre-installed or easily enabled by dropping in a pre-certified PCI Express 3G/4G module for additional broadband connectivity flexibility. Kontron's M2M Developer's kit gives OEMs, smart services developers, and independent software vendors (ISVs) multiple benefits from a COMs-based modular approach that include reduced development costs, risk and time-to-market in a proven, production-ready COTS small factor platform. The kit packaging is also easily customized with the network operator's, OEM's, or ISV's brand.

For more information on the PTCRB certification of the Kontron KM2M800 family of M2M Smart Services Developer Kits, please visit: http://www.ptcrb.com/vendor/complete/view_complete_request_guest.cfm?modelid=21058

For more details about Kontron M2M solutions, please visit: www.kontron.com/M2M

About Kontron

Kontron is a global leader in embedded computing technology. With more than 40% of its employees in research and development, Kontron creates many of the standards that drive the world's embedded computing platforms. Kontron's product longevity, local engineering and support, and value-added services, helps create a sustainable and viable embedded solution for OEMs and system integrators. Kontron works closely with its customers on their embedded application-ready platforms and custom solutions, enabling them to focus on their core competencies. The result is an accelerated time-to-market, reduced total-cost-of-ownership and an improved overall application with leading-edge, highly-reliable embedded technology.

Kontron is listed on the German TecDAX stock exchange under the symbol "KBC". For more information, please visit: www.kontron.com/

Americas

Richard Pugnier

Kontron

Tel:+1 (858) 623-3006

richard.pugnier@us.kontron.com

All rights reserved. Kontron is a trademark or registered trademark of Kontron AG.

Intel® and Intel® Atom(TM) are trademarks of Intel® Corporation in the US and other countries. PICMG® and COM Express® are trademarks of the PCI Industrial Computers Manufacturers Group. All other brand or product names are trademarks or registered trademarks or copyrights by their respective owners and are recognized. All data is for information purposes only and not guaranteed for legal purposes. Subject to change without notice. Information in this press release has been carefully checked and is believed to be accurate; however, no responsibility is assumed for inaccuracies.


More from Electronic Components & Devices