KONE JumpLift™ Makes U.S. Debut in Construction of Hyatt Regency Seattle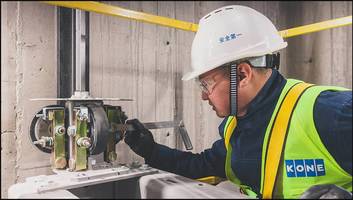 KONE Helps Reduce Construction Time for the Hyatt Regency Seattle Convention Center Hotel by up to 20 Percent
SEATTLE, April 11, 2017 - KONE, a global leader in the elevator and escalator industry, debuts KONE JumpLift™ technology in the newest construction project located at Eighth and Howell in downtown Seattle, which will soon be the tallest hotel in the Pacific Northwest.
KONE JumpLift is a first of its kind, self-climbing elevator that increases jobsite safety, improves efficiency and accelerates construction work, capable of trimming months off a high-rise construction timeline. A product offering of KONE's Smart Construction methods, KONE JumpLift is a solution focused on enhancing the flow of people on construction sites.
With the ability to move people five times faster and cut wait times in half, KONE JumpLift offers a better alternative to external hoists, which traditionally have transported workers between floors on a construction site. With increased speed, KONE JumpLift can substantially decrease the number of hours worked each day. For Hyatt Regency Seattle, this efficiency translates into labor cost savings.
"The KONE team is excited to work with Sellen Construction and take the Hyatt Regency Seattle project to new heights with our Smart Construction solutions," said Larry Wash, executive vice president for KONE Americas. "We believe that when vertical transportation is considered as part of the pre-construction process, productivity gains a new reality. By installing KONE JumpLift at the Hyatt Regency Seattle, we can move the site workforce more efficiently and safely than ever, while delivering construction projects faster."
With KONE JumpLift, workers can use the elevator while guide rails are installed above. When construction reaches a designated floor, the mobile machine room, which contains the hoisting machine and elevator controls, moves upward (jumps). The mobile machine room is then locked into place in the new location and the elevator can serve the additional floors covered by the jump. As the building grows taller, KONE JumpLift follows, with additional floors served after each jump.
Benefits of KONE JumpLift include:
Quicker, more efficient construction capabilities: KONE JumpLift can travel at higher speeds, increasing people traffic capability by three times compared to traditional external hoisting methods.
Fewer delays: Because the elevator is in the building's permanent hoistway, work can continue in all-weather situations.
Increase in the safety of upward movement at the construction site: KONE JumpLift operates under standard elevator code, meaning it meets the same safety standards as a normal elevator.
Once construction is completed, KONE will deliver and service 16 KONE MiniSpace™ elevators in the hotel tower, 12 KONE TravelMaster™ escalators, six KONE MonoSpace® elevators and two large freight elevators to optimize people flow throughout the convention center.
KONE JumpLift is a proven construction innovation that has been used in many KONE projects internationally, including the One Bloor project in Toronto, Canada.
For more information on KONE JumpLift visit KONE.us.
About KONE
At KONE, our mission is to improve the flow of urban life. As a global leader in the elevator and escalator industry, KONE provides elevators, escalators and automatic building doors, as well as solutions for maintenance and modernization to add value to buildings throughout their life cycle. Through more effective People Flow®, we make people's journeys safe, convenient and reliable, in taller, smarter buildings. In 2016, KONE had annual net sales of EUR 8.8 billion, and at the end of the year close to 52,000 employees. KONE class B shares are listed on the Nasdaq Helsinki Ltd. in Finland.
SOURCE KONE
CONTACT: Patrick O'Connell,
317.374.4960,
Web Site: http://www.kone.com
More from Electrical Equipment & Systems