Kolbe Showcases VistaLuxe Collection in Three Design Styles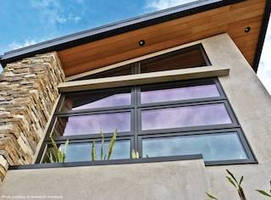 Kolbe will be exhibiting at the International Builders Show in booth #C2608



Wausau, Wis. — On exhibit at the 2014 International Builders Show (IBS), Kolbe's new VistaLuxe™ Collection features multiple design styles that highlight the warmth of wood and expansive glass views with energy-efficient performance. Demonstrating the creative versatility of these products, each wall of the display showcases a distinctive aesthetic – Modern, Mountain Contemporary and Country Contemporary.



"The VistaLuxe Collection display is our showpiece. This is the first time it will be presented at IBS," says Cindy Bremer, Kolbe's vice president of marketing. "Kolbe collaboratively developed this new product line with architects specifically seeking contemporary designs to create large expanses of glass. The VistaLuxe Collection elegantly combines multiple units into unique, compatible configurations, while maintaining symmetry and sightlines, delivered by the narrowest of frames."



The breadth of products in Kolbe's VistaLuxe Collection includes casements, awnings, direct set windows, inswing and outswing doors and matching transoms, and geometric shapes, plus a new complementary multi-slide door. Minimal frames and stiles optimize daylight openings and maximize viewing areas, while maintaining energy efficiency.



A range of glass choices assist in addressing different climate zones and performance needs. The IBS display utilizes LoE2-270 glass, which is Kolbe's standard for double pane insulating glass. Windows from the VistaLuxe Collection also are recognized among the Most Efficient of ENERGY STAR® in 2014.



Along with energy-efficient performance, Kolbe's IBS exhibit of the VistaLuxe Collection's designs spotlight different finishes on each of the aluminum exteriors and custom detailing for each of the wood interiors.



With exterior framing painted in Coal Black, these direct set windows combine with an inswing door unit. The door incorporates narrow stiles and rails painted Fire Engine Red for a striking presentation. The exterior features an Accent style profile, with one direct set sash that demonstrates energy-efficient triple pane glass. On the interior, Maple with Ebony stain and a Dallas style handle in Satin Nickel complete the bold Modern look.



Featuring the VistaLuxe Collection's setback Accent style profile, direct sets, picture units, casements and awnings create an expansive, inviting opening. A light Beech wood in a clear finish offers a neat, crisp interior. A custom bullet-shaped interior mull casing, wood-wrapped screen and Satin Nickel hardware add distinguishing details. The eye-catching exterior showcases a Driftwood mica finish to deliver a Modern interpretation of rustic décor in this Mountain Contemporary design.



Direct sets, picture units, casements and awnings are mulled together and smoothly aligned with the Flush style exterior profile. Exteriors are finished in Clear Anodized to capture a sleek, Modern appearance. For a Country Contemporary look on the interior, pair white-painted Pine windows with dark hardwood floors, country accents and grand views.



To learn more about Kolbe's VistaLuxe Collection, please visit www.kolbe-kolbe.com.



What began in 1946 as a two-brother team has grown into an internationally respected manufacturing company. Kolbe & Kolbe Millwork Co., Inc. is one of the nation's leading manufacturers of windows and doors for residential and commercial markets. After more than 65 years, Kolbe products are best known for superior quality, custom craftsmanship, attention to detail, as well as innovative and unique designs.





More from Mechanical Components and Assemblies