Knife Gate Valve is designed for heavy slurry applications.
Press Release Summary: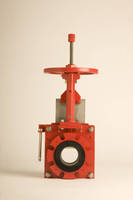 Suited for use in power and mining industries, Series DX Slurry Knife Gate Valve features reinforced elastomer sleeves that seal against each other when valve is opened and provide 100% full port opening, minimizing turbulence. Valve provides drop tight shut-off in both directions and discharges small amount of slurry out of valve with every stroke, keeping gate path and seat area clear of entrapped particulates.
---
Original Press Release:

Red Valve's Series DX Slurry Knife Gate Valve



CARNEGIE, PA (May 1, 2009) - Red Valve Company, Inc. is pleased to announce the introduction of their newest product, the Series DX Slurry Knife Gate Valve.

The Series DX Slurry Knife Gate Valve is recognized as the most durable and user-friendly knife gate valve. It is designed especially for heavy slurry applications in the power and mining industries.

When the Series DX valve opens, the reinforced elastomer sleeves seal against each other and provide a 100% full port opening, minimizing turbulence which in turn minimizes wear. The seats isolate and protect all metal parts of the valve from coming in contact with the process. When the valve is closed, the sleeves provide a drop tight seal. Another unique feature to this valve is its ability to provide drop tight shut-off in both directions.

Each time the Series DX valve strokes, it is designed to discharge a small amount of slurry out of the valve, keeping the gate path and seat area clear of entrapped particulates. Unlike traditional knife gate valves, the DX prevents slurry build up in the seat area which might otherwise prohibit the valve from closing.

For more information on this new product and Red Valve's full line of quality pinch valves, control valves, knife gate valves, pressure sensors, and rubber products, contact Red Valve Co., Inc., 600 North Bell Avenue, Carnegie, PA 15106, call us at 412-279-0044, or e-mail us at valves@redvalve.com. Visit us at www.redvalve.com.

Red Valve Company, Inc.

600 North Bell Avenue

Carnegie, PA 15106

Phone: (412) 279-0044

Fax: (412) 279-7878

E-mail: valves@redvalve.com

Contact:

Erin M. Athey

Marketing Manager

eathey@redvalve.com

More from Packaging Products & Equipment