Knife Gate Valve has dual actuators.
Press Release Summary: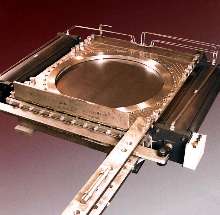 Made of 2205 Duplex Steel, 48 in. valve handles corrosive and abrasive materials. Product has face-to-face dimension of 6 in. and assembles without welding. Controls automatically open and close valve to 85% of open position, allowing removal of material deposit on blade. Unit is controlled by 3 relays, 1 limit switch, and 1 timer, all appropriately interlocked. Solids accumulated on bottom can be flushed out to prevent compaction of material.
---
Original Press Release:

New High Strength 2205 Duplex Steel 48-Inch Knife Gate Valve Introduced by Staineless Valve Company (US)


MONROE, North Carolina -- A unique 48 in. knife gate valve made of high strength 2205 Duplex Steel instead of standard stainless steel for processing more corrosive and abrasive materials has been introduced by Stainless Valve Company of Monroe, North Carolina. Stainless Valve Company is a producer of specialty valves for the worldwide chemical, pulp, mining and related industries.

The new ferritic / austenitic stainless steel material used in the 48 in. valve makes it 50 percent stronger than austenitic stainless steel valves as well as more corrosion resistant in many applications.

For durability in processing and longer life, the 48 in. valve has a face to face dimension of 6 in. (150 mm) and is designed to be assembled without welding. This virtually eliminates any possibility of preferential corrosion due to influence of welding on the crystallographic structure.

Although wider in design and shorter in length than most other valves, the 48 in. valve has much better throughput and less friction, can handle more volume, and has 50 percent more flow cross-section compared to a 36 in. valve. The amount of gas discharged is also far greater than through other valves.

Controls automatically open and close the valve to 85 percent of the open position. This allows removal of any material deposit on the blade.

"The 48 in. knife gate valve made of Duplex Steel 2205 is unique to the industry," noted Dr. Dirk Lindenbeck, President of Stainless Valve Company. "Basic benefits include less transport cost, less material input and less welding for the same strength."

Controls Described

The 48 in. knife gate valve from Stainless Valve Company has two actuators located on either side of the valve, which requires less space than a single actuator in line. A double coil solenoid valve, mounted on the back of one of the actuators, is piped to the actuator ports and is wired to the control box. The control box is also mounted to one of the actuators.

The 48 in. valve is controlled by four switches, three relays, a limit switch and a timer, all appropriately interlocked. These automatically open and close the valve to 85 percent of the open position. Switches include one for emergencies, which stops the valve in position, one for activating opening the value, one which activates closing the valve and one which starts-up the valve to the 85 percent open position. A timer set for 24 hours automatically starts the 85 percent cycle.

Solids accumulated on the bottom of the valve can be flushed out in order to prevent compaction of material in the area.

The 48 in. valve is part of Stainless Valve's Big Knife(TM) family. It comes with a three year warranty.

Besides Big Knife(TM) valves Stainless Valve Co. offers a variety of valves including the Stargate-O-Port(TM) valves, Big Blow(TM) Valves, Big Screen(TM) and others.

For more information, contact Stainless Valve Company, 4811 Persimmon Ct, Monroe, North Carolina 28110. Telephone is (704) 289-5858; FAX is (704) 289-5859 and e-mail bigvalve@stainlessvavleco.com. The web site is www.stainlessvalveco.com

More from Electrical Equipment & Systems