KLV 1360 Series Leak Detectors come with integrated robotic system.
Press Release Summary: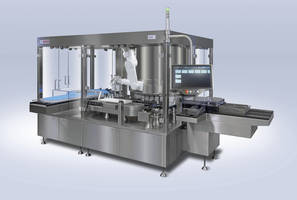 Designed with star-wheel system for gentle transportation, KLV Series Leak Detectors are capable of inspecting 250-600 containers per minute and measure leaks equivalent to hole sizes less than 5 micrometer. Featuring automatic re-inspection capability, unit's vacuum process ensures high inspection sensitivity.
---
Original Press Release:
Interpack 2017: Bosch Launches New KLV Series for Leak Detection of Rigid Containers
Portfolio for CCI technologies completed
Vacuum process ensures high inspection sensitivity
Inspection of up to 600 glass containers per minute using unique group testing
The first machine of its kind with process control via reference parts
At Interpack 2017, Bosch Packaging Technology presents the new KLV series for Container Closure Integrity Testing (CCIT). "In the pharmaceutical industry, non-destructive CCI technologies are becoming increasingly important," explains Dr Jérôme Freissmuth, product group head at Bosch Packaging Technology. "Even the smallest leaks can be highly hazardous for patients. The active ingredient could alter, administering the medication could lead to serious side effects as a result of non-sterility, or the medication could become ineffective. Furthermore, non-destructive integrity testing protects pharmaceutical manufacturers against the loss of valuable medication, since the container remains intact during testing."
Bosch has continuously expanded its portfolio of CCI technologies in recent years. High voltage leak detection and laser-based headspace analysis are now complemented by the new KLV series for vacuum leak detection. At Interpack, Bosch unveils the first in the series – the KLV 1360, which has been specially developed for vials. Generally, the platform is suited for all rigid glass containers.
Highly sensitive testing combined with high output
"A special feature is the combination of testing sensitivity and high output," says Wolfram Schindler, engineer measurement technology at Bosch Packaging Technology. In vacuum leak detection, negative pressure is created in hermetically sealed chambers. If the container is faulty, the leaking fluid or gas causes the pressure to rise. The KLV 1360 measures this pressure increase with very high sensitivity. Thanks to state-of-the-art measuring technology, themachine is able to measure leaks equivalent to hole sizes of less than five micrometers.
The KLV 1360 can inspect between 250 and 600 containers per minute. It achieves its maximum performance thanks to special inspection chambers, where the containers can be tested either individually or in groups. "Depending on the body diameter – which can vary from eight to 56 millimeters – the KLV can inspect up to three containers simultaneously in one chamber. This enables us to significantly increase the output," Schindler explains.
Maximum protection even after inspection
The KLV ensures a consistently high inspection quality. It is the first machine of its kind where the integrated robotic system not only feeds the containers that require inspection into the process. It also adds reference samples for internal process control. In addition, automatic re-inspection makes sure that only containers, which have clearly been tested, leave the machine.
Even after inspection, the product and closure quality remain a top priority. The KLV does not grip the containers from above. Instead, the slightly slanted transport system makes it possible to remove the conatiners from the inspection chamber sideways in order to prevent leaks occurring due to closure gripping. Furthermore, a star-wheel system ensures gentle transportation through the system with minimal wear and tear. Thanks to its modular construction, the KLV 1360, which has a turntable fitted as standard, can be seamlessly integrated into existing lines.
Everything from a single source
The new KLV 1360 completes Bosch's inspection portfolio. Visitors to Interpack can learn about the entire range of technologies – from visual inspection and headspace analysis to vacuum testing, all of which will be showcased as benchtop models. "Our customers not only have a wide choice of technologies," Schindler underlines. "We also advise them on the best inspection solutions for their liquid or lyophilized medications and are their experienced partners when it comes to regulatory requirements and individual solutions."
Bosch at Interpack: hall 6, booth A30-C58
Contact:                                                                     Contact person for press inquiries:
Wolfram Schindler                                                       Nicole König
Phone: +49 7951 402-1607                                           Phone: +49 7951 402-648
                                                                                  E-mail nicole.koenig@.bosch.com
Based in Waiblingen near Stuttgart, Germany, and employing 6,200 associates, the Bosch Packaging Technology division is one of the leading suppliers of process and packaging technology. At over 30 locations in more than 15 countries worldwide, a highly-qualified workforce develops and produces complete solutions for the pharmaceuticals, food, and confectionery industries. These solutions are complemented by a comprehensive after-sales service portfolio. A global service and sales network provides customers with local points of contact. Additional information is available online at www.boschpackaging.com
The Bosch Group is a leading global supplier of technology and services. It employs roughly 390,000 associates worldwide (as of December 31, 2016). According to preliminary figures, the company generated sales of 73.1 billion euros in 2016. Its operations are divided into four business sectors: Mobility Solutions, Industrial Technology, Consumer Goods, and Energy and Building Technology. As a leading IoT company, Bosch offers innovative solutions for smart homes, smart cities, connected mobility, and connected industry. It uses its expertise in sensor technology, software, and services, as well as its own IoT cloud, to offer its customers connected, cross-domain solutions from a single source. The Bosch Group's strategic objective is to create solutions for a connected life, and to improve quality of life worldwide with products and services that are innovative and spark enthusiasm. In short, Bosch creates technology that is "Invented for life." The Bosch Group comprises Robert Bosch GmbH and its roughly 450 subsidiaries and regional companies in some 60 countries. Including sales and service partners, Bosch's global manufacturing, engineering, and sales network covers nearly every country in the world. The basis for the company's future growth is its innovative strength. At 120 locations across the globe, Bosch employs 59,000 associates in research and development.
Additional information is available online at www.bosch.com.
Contact:
Robert Bosch GmbH
Postfach 10 60 50
D-70049 Stuttgart, Germany
More from Communication Systems & Equipment