Kitting Cart Transports Cut-to-Length, in-Process Materials for Assembly Projects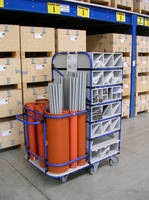 An industrial fabricator needed to efficiently transport kitted, cut-to-length materials and other supporting components from a cutting and staging area to its assembly department. One of the challenges they faced was to easily identify a wide selection of components cut to different lengths and segregate them for easy identification and rapid retrieval at the various manufacturing stations. Creform Corporation, Greer, SC, designed and built a series of carts to meet their requirements.

The Creform kitting carts are comprised of a series of custom compartments fabricated with 1/2" HDPE plastic material for horizontal storage and transport of cut-to-length products. The longest cut-to-length products are placed in various diameters of PVC tubing that provide vertical segregation while loading, transporting or retrieving. Because these longer lengths are held vertically in plastic tubes and rest on the cart's floor, visual inventory management is enhanced, helping assure that common lengths are in their proper place and the compartment with needed cut lengths quickly identified.

The cart has a 450-pound capacity, a 34" x 65" footprint and features six 5" diameter casters with urethane wheels. Two fixed casters provide easy directional control and two have brakes for secure positioning. Several components of the cart utilize bent Creform 28mm pipe that improves functionality as well as appearance. The use of bent pipe reduces the number of metal fittings lowering both assembly time and fitting costs. It is also used for the cart's curved push/pull handle enhancing ergonomics because it is easy to reposition to a comfortable height and the curved pipe provides a comfortable feel in the hands of the operator.

The horizontal storage compartments or shelves are easily repositioned using a few simple tools thanks to the Creform System of pipe and joints. Creform metal joints are adjustable using a hex head T-handle wrench. Shelves can be left open without dividers to hold boxes or totes of small parts or the entire cart can be modified to meet other needs.

Other pipe colors are available and Creform offers a pipe-bending service for kitted or assembled structures. Creform also offers a wide selection of accessories to further customize these carts including hooks, label holders, holsters for picking and scanning guns to name a few. The cart can also be easily modified for automated delivery with the addition of a Creform bolt-on AGC drive unit.

Visit www.creform.com for additional information regarding Creform Corporation and its products.

More from Software