Kits provide fall protection when climbing fixed ladders.
Press Release Summary: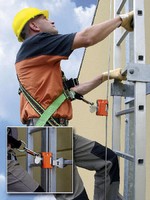 Designed to allow up to 4 users simultaneously, Miller Vi-Go(TM) Vertical Cable Climbing System Kits are available with automatic pass-through brackets or manual cable guides. Both secure cable in windy environments to prevent wear. Lifeline tensioner prevents ladder rung deformation and indicates when lifeline is properly tensioned. Both Premium and Standard cable sleeves move along lifeline, uninterrupted, following user while ascending and descending, and instantly locking in event of fall.
---
Original Press Release:

New Miller Vi-Go(TM) Vertical Cable Climbing System Kits from Miller® Fall Protection Provide Continuous Fall Protection When Climbing Fixed Ladders



Designed for climbing fixed ladders, new Miller Vi-Go(TM) Vertical Cable Climbing System Kits from Miller Fall Protection provide continuous fall protection with easy-to-install components. Ladder applications include telecommunication towers, wind power, tanks, silos, drilling rigs, electrical transmission towers and general industry.

The Miller Vi-Go Ladder Climbing System Kits offer the following advantages:

o Select Automatic Pass-Through Brackets or Manual Cable Guides - Both secure the cable in windy environments to prevent wear.

-- Automatic Pass-Through Brackets

- Vi-Go Premium Cable Sleeve glides easily through intermediate brackets
uninterrupted.

- Hands and feet are free for climbing.

-- Manual Cable Guides

- Require manual removal/insertion of cable with intermediate brackets.

o All systems allow for up to 4 users simultaneously - increasing productivity.

o Top bracket engineered with integral shock absorber to reduce forces in the event of a fall.

o Unique lifeline tensioner designed with dual functionality.

-- Prevents ladder rung deformation.

-- Indicates when lifeline is properly tensioned for quick, easy installation and inspection.

Premium and Standard Cable Sleeves

Select Premium or Standard Cable Sleeves. Both cable sleeves are designed to move along the lifeline, uninterrupted, following the user while ascending and descending, instantly locking in the event of a fall.

Premium Vi-Go Cable Sleeve

o Automatically passes through Vi-Go intermediate brackets, hands and feet are free for climbing, increasing productivity.

o Unique ergonomic design provides easy, one-hand operation for attachment/detachment from the system. No pins/chains or external parts to lose or damage. Maintaining continuous 3-point contact with the ladder increases safety.

o Attachment mechanism engineered to prevent incorrect installation, ensuring greater safety. Unit will not open if attached incorrectly.

o Integrated stainless steel shock-absorbing element safely reduces fall forces. Provides a "dual shock-absorbing system" to further reduce fall forces. Protects the system and ladder from damage.

o Constructed of durable corrosion resistant aluminum and stainless steel material.

For more information on Miller Vi-Go Vertical Cable Climbing System Kits, contact your nearest Miller Distributor or call Miller Technical Service toll free at 800/873-5242, or Fax: 800/892-4078. Visit our website: www.millerfallprotection.com

Contact: Edward J. Bickrest

Marketing Communications Manager

Miller Fall Protection, Sperian Fall Protection, Inc.

Tel: (401) 233-0333 Fax: (401) 232-1830

More from Material Processing