Circuit Board Assembly Services
Kits create iSCSI storage products in IP-SAN environment.
Press Release Summary: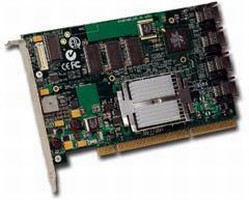 Comprised of MegaRAID SATA 300-8X and SATA 300-8XLP, iMegaRAID(TM) product line enables construction of iSCSI storage products with terabytes of pooled storage shared in IP-SAN environment using x86 Linux platforms and LSI Logic MegaRAID® SATA storage adapters. Users can build iSCSI appliance featuring iSCSI path redundancy, bandwidth scaling, and port segmentation. Selectable components include CPU, memory, number of Ethernet ports, and 1.5 or 3 Gbps SATA disks.
---
Original Press Release:
LSI Logic Demonstrates iMegaRAID Family, iSCSI Technology for Server and External IP SAN Environments
- iMegaRAID(TM) family addresses the iSCSI computing needs for a variety of environments and applications and provides system builders and OEMs with a unique opportunity to design cost-effective, robust IP-SAN appliances, near-line storage and entertainment servers (music/video) - The premier demonstration of iMegaRAID technology will take place at LinuxWorld, August 9-11 in San Francisco at LSI Logic booth #461 MILPITAS, Calif., Aug. 8 -- LSI Logic Corporation (NYSE:LSI) today announced it will demonstrate the iMegaRAID family, a new product line that enables the construction of iSCSI storage products using x86 Linux platforms and LSI Logic MegaRAID(R) SATA storage adapters, at LinuxWorld this week. iMegaRAID kits include the MegaRAID SATA 300-8X or the SATA 300-8XLP (low profile). MSRP for the iMegaRAID kit begins at $1,099.00. "The iMegaRAID family was created to provide OEMs and system builders with a highly flexible component for iSCSI appliance design," said Steve Looby, senior product manager, LSI Logic RAID Storage Adapters Division. "This cost-effective iSCSI RAID solution allows customers to build an iSCSI appliance featuring iSCSI path redundancy, bandwidth scaling and port segmentation -- and select the components appropriate to meet appliance performance needs and cost goals, such as CPU, memory, number of Ethernet ports and 1.5 Gb/s or 3Gb/s SATA disks." With iMegaRAID technology, users share volumes over iSCSI/Ethernet connections that are created from RAID LUNs using high-capacity low-cost SATA drives that support 1.5 Gb/s or 3Gb/s serial connections and Native Command Queuing (NCQ). Multi-terabyte RAID storage appliances are accessed via an iSCSI Ethernet SAN with data transfers exceeding 100MB/s per port. OEMs and system builders can use iMegaRAID technology to enable the construction of dedicated storage servers with terabytes of pooled storage shared in an IP-SAN environment. Excess capacity can then be allocated where it is needed; deferring or eliminating the need to buy additional storage. Fewer installations with larger pools of capacity can reduce the cost to manage and service data and lead to lower administration costs. Complementing the management software tools available with MegaRAID SATA II adapters, iMegaRAID technology extends the protection and reliability trusted by application servers throughout the world into the realm of iSCSI SAN appliances. Already offering the highest levels of fault tolerant data protection via RAID levels 0, 1, 5, 10, 50 and battery protected cache, iMegaRAID technology adds iSCSI connectivity with multi-path failover and failback support, 128-bit encrypted passwords and iSCSI header and data digest integrity checks. iMegaRAID technology is offered on Linux Distributions RHEL 3.0, 4.0 and Suse SLES 9 including the choice of 32 or 64 bit kernels and AMD or Intel architectures. To purchase an iMegaRAID SATA 300-8X kit, visit: lsilogic.com/contacts/na_distributors.html (North America) http://lsilogic.com/contacts/intl_distributors.html (International) Additional information on the product can be found at: http://lsilogic.com/products/megaraid/index.htmlhttp://lsilogic.com/downloads About LSI Logic Corporation LSI Logic Corporation focuses on the design and production of high-performance semiconductors for Consumer, Communications and Storage applications that access, interconnect and store data, voice and video. LSI Logic engineers incorporate reusable, industry-standard intellectual property building blocks that serve as the heart of leading-edge systems. LSI Logic serves its global OEM, channel and distribution customers with Platform ASICs, standard-cell ASICs, standard products, host bus adapters, RAID controllers and software. In addition, the company supplies storage network solutions for the enterprise. LSI Logic is headquartered at 1621 Barber Lane, Milpitas, CA 95035. lsilogic.com/ The LSI Logic logo, MegaRAID, iMegaRAID and LSI Logic are trademarks or registered trademarks of LSI Logic Corporation. All other brands and names may be trademarks of their respective companies. CONTACT: Amber Strong of LSI Logic Corporation, +1-678-728-1295, or astrong@lsil.com; or Jay Russo of LVA Communications, +1-860-739-5598, or jay@lva.com, for LSI Web site: lsilogic.com/
More from Chemicals & Gases