Kit contains 3.5 mm RF adapters.
Press Release Summary: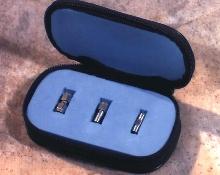 RFA-4031-01 kit features 3 adapters, each with 50 ohm impedance. They are made of non-magnetic 303 stainless steel, with beryllium-copper contacts supported with bead configuration. Units operate up to 34 GHz. Female contacts feature 4-slot configuration, ensuring that pressure is distributed evenly during engagement of male pin. Coaxial connectors and adapters intermate with SMA and 2.9 mm connectors.
---
Original Press Release:
RF Connectors Introduces Its New 3.5mm Precision Adapter Kit

The RFA-4031-01 kit features three 3.5mm precision adapters housed in a compact, foam-lined, zippered case for convenience and protection of the components when not in use. These adapters and the RFA-4031-01 adapter kit have been added to the RF Connector product line for use in microwave and RF applications. All 3.5mm adapters in this series have 50 ohm impedance and are made of non-magnetic 303 stainless steel with beryllium copper contacts supported with a bead configuration. They are designed to operate up to 34 GHz with a VSWR rating of 1.05+.006 f (f-GHz) Max. and have the same electrical length. 3.5mm series coaxial connectors and adapters inter-mate with SMA and
2.9mm connectors and are used primarily on test equipment. Female
contacts feature a four-slot configuration, ensuring that pressure is distributed evenly during the engagement of the male pin, a design which, when combined with a shortened male pin, eliminates misalignment during engagement. Adapters in the RFA-4031-01 kit include RF35M-35M-00000 male-to-male, RF35F-35F-00000 female-to-female, and RF35M-35F-00000 male-to-female.

Available from RF Connectors Distributors throughout the US, Canada and Mexico. For additional information call 800-233-1728 or 858-549-6340. You can also e-mail: rfi@rfindustries.com. Visit our web site at www.rfindustries.com.

7610 Miramar Road, San Diego, CA 92126-4202 (858) 549-6340 (800) 233-1728 Fax: (858) 549-6345 E-mail: rfi@rfindustries.com Web: www.rfindustries.com
More from Mechanical Components and Assemblies