Kistler Presents CoMo DataCenter 2.0 for Analyzing Injection Molding Processes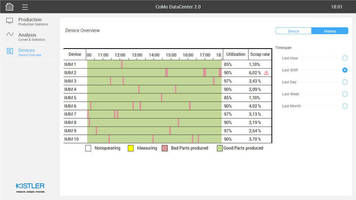 Wide range of options for optimizing the quality assurance through documenting and evaluating production data of CoMo Injection Systems



Orlando, FL, USA – At NPE 2015 (23 – 27 March), Kistler is presenting the new CoMo DataCenter 2.0 (CDC) for data management and analysis of injection molding processes. The CDC complements Kistler's CoMo Injection System, which allows cavity pressure-based quality monitoring and documentation of injection molding processes. With this package solution, users can optimize the quality of their series production by integrating the process monitoring directly in the manufacturing process. Thus, waste will be detected and rejected as it occurs and manual quality checks can be dispensed with. This enables manufacturers to reduce material and production costs.



Multi-machine production monitoring and process analysis



CDC links all the user's CoMo Injection Systems together, seamlessly combining process- and quality-related production data for both live and completed orders in one database. In addition to receiving at-a-glance information about the status of each injection molding machine, users are enabled to monitor their production and analyze processes across multiple machines. For example, they can see which machine is generating particularly good or poor performance values. All data can be accessed through a web browser, even from a mobile device – for complete transparency at any time and from everywhere in the world. As a result, users can meet the growing customer demand for documentation and traceability of production data.



Intuitive data networking



Como DataCenter 2.0 is easy to install: all the necessary software components are integrated in an installation package that can be launched with just a click. There is no need to manually link interfaces, users can get started right away. Because CDC accesses an integrated database there is no need to purchase an additional database, which avoids subsequent costs. With the optional expert version, data can be integrated in the user's IT infrastructure, allowing an existing database to be used. All production data can therefore be merged from different systems for unlimited data comparability.



Variety in data breakdown for manufacturers



CDC's intuitive, state-of-the-art user guidance is easy to familiarize with. "CoMo DataCenter 2.0 offers optimum production management features," explains Daniel Fick, Product Manager at Kistler. "It's easy to compare the status, effectiveness, and capacity utilization of machines." CDC's detailed data history is quick and easy to search with the help of various filters, enabling the user to easily perform multi-stage searches for production orders and batches. To analyze process fluctuations and reject cycles in detail, CoMo DataCenter 2.0 comes with a range of evaluation functions. These include interactive trend graphs for all recorded production cycles, which legibly reveal process fluctuations, and a detailed curve analysis for subsequent causal research. Furthermore, all results of the analysis can also be exported to other programs.



Kistler will present CoMo DataCenter 2.0 at NPE in Orlando, FL, USA, 23 – 27 March 2015. Kistler will be at stand W3063 in hall B.



User contact



Daniel Fick

Product Manager

Tel: +41 52 224 16 06

E-mail:

[email protected]





Media contact



Simone Koch

Divisional Marketing Manager IPC

Tel: +41 52 224 18 02

E-mail:

[email protected]





About the Kistler Group



The Swiss-based Kistler Group is one of the world's leading providers of dynamic technology for measuring pressure, force, torque, and acceleration. Kistler technology is used to analyze physical processes, control industrial processes, and optimize product quality.



Kistler offers a comprehensive range of sensors, electronics, and systems for engine development, automotive engineering, plastics processing, metalworking, assembly engineering, and biomechanics.



Thanks to its 30 Sales and Production Centers, three Tech Centers, as well as more than 30 agencies, the Group is present on every continent. This allows customers to benefit from local contacts as well as application support tailored to their needs.



The Kistler Group employs 1,350 people and, in the 2014 financial year, achieved sales of 319 million CHF.