Kiosk comes configured as multimedia-ready.
Press Release Summary: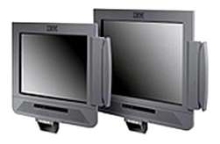 Manufactured with open system design, IBM Anyplace Kiosk offers flexible configuration in space-saving form factor. It comes with choice of 12 in., 800 x 600 LCD or 15 in., 1024 x 768 active matrix LCD touchscreen interface. Powered by 1.3 GHz Intel(TM) Celeron® M Processor 320 with 400 MHz FSB and 512 KB cache, product provides 256 MB of memory, expandable to 2 GB, and supports full-motion video. Presence sensor allows activation of kiosk when users approach up to 5 ft away.
---
Original Press Release:

IBM Anyplace Kiosk with Anyplace Omni Scanner Enhanced: Designed for Style, Performance, and Small Packaging


At a glance

The open system design, which includes driver support, makes it easier to integrate existing environments which helps preserve your investment in business infrastructure. You can design, update, or change kiosk software with tremendous flexibility.

Flexible configuration, with an all-new, space-saving form factor, allows multiple peripheral options and a variety of mounting capabilities.

A choice of 12-inch LCD (800 x 600) or 15-inch (1024 x 768) active matrix LCD touchscreen interface

Robust infrared (IR) touchscreen technology

Intel(TM) Celeron® M Processor 320 (1.3 GHz, 400 MHz front side bus, 512KB cache)

Optional 40 GB hard disk drive (HDD)

256 MB of memory (standard) expandable to 2 GB memory

Support for full-motion video and multimedia

A presence sensor that allows activation of the kiosk when consumers approach up to 5 feet away

10/100 Ethernet LAN and Web connectivity

Environmentally hardened components for outstanding reliability

VESA mount that allows for attachment of wall mount, tabletop mount, or floor mount

For ordering, contact:
Your IBM representative, an IBM Business Partner, or IBM Americas Call Centers at 800-IBM-CALL (Reference: YE001).

Overview

IBM Anyplace Kiosk solutions are designed for style and engineered for performance, enabling you to run self-service applications in virtually any environment. Created to help withstand the rigors of unattended use, the new models of the IBM Anyplace Kiosk family feature an all-new, space-saving form factor, IR touchscreen, multiple peripheral, and third-party enclosure options. The new Anyplace Omni Scanner is a high-performance scanner designed specifically for the IBM Anyplace Kiosk. The adaptive, multipattern scan engine packs power and performance into one of the smallest packages available. In addition, the new models are multimedia ready. This comprehensive IBM Anyplace Kiosk family facilitates easy, rapid implementation while its compact design is ideal where space is at a premium.

Flexible, customizable kiosk solutions can evolve with your business.

The IBM Kiosk is an off-the-shelf product that provides you with customizable options and enables tailored configurations. IBM can be your source for wall-mount, countertop, or pedestal kiosk solutions, offering:

Integration of peripherals

Installation

Training and support

Third-party custom and off-the-shelf enclosures

IBM Anyplace Kiosk solutions are designed to help meet your existing business needs and to help accommodate future requirements. By leveraging open-industry standards, IBM Anyplace Kiosk solutions provide broad operating system and application support, giving you the flexibility to use applications that run in a variety of environments, such as Microsoft(TM) Windows(TM), and Linux(TM) on thin or thick clients. With its standard open platform, the IBM Anyplace Kiosk is designed to run most off-the-shelf software and applications created by IBM, ISVs, or your in-house team. Many available applications have also been tested by ISVs for optimal performance on IBM Kiosk technology.

IBM Anyplace Kiosk administrative change

The IBM Anyplace Kiosk was initially announced on January 11, 2005, under machine type 4836. Due to an administrative error, IBM is reannouncing the IBM Anyplace Kiosk under new machine type 4838. There is no change in the model configurations, pricing, or model numbers. Customers with installed 4836 Machine Type Anyplace Kiosks can continue to order additional IBM Anyplace Kiosk features for their installed machines.

Key prerequisites

Windows 2000 Professional, Windows XP Professional, Windows XP Embedded, Windows Embedded for Point of Service or IBM's Retail Environment for SUSE LINUX

Note: IBM will provide hardware support for customers who create unique Windows XP Embedded images. Field problems for XP Embedded must be recreated under Windows XP Professional.

Planned availability date

August 12, 2005

More from Electrical Equipment & Systems