KeyWatcher® System offers live information via mobile devices.
Press Release Summary: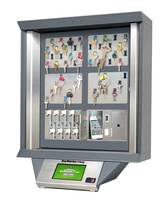 Embedded with TrueTouch software for running programming, remote functions and reports of touch locations, KeyWatcher® System comes with fast KeyAnywhere and KeyFind features. Networked to 17 key cabinets that are located throughout the facility, system enables management to see live information regarding status of more than 600 keys held in the system. KeyWatcher® sends automated alerts to authorized individuals via SMS or emails if a key is not returned.
---
Original Press Release:
Upgraded KeyWatcher® System Reaps Efficiency Benefits for Swedish Automotive Manufacturer
KeyWatcher Touch Hardware and TrueTouch Software Add Network Convenience
Scania AB is known the world over as a premier manufacturer for the automotive industry, with products ranging from engines for use in Aircraft Rescue and Firefighting (ARFF) vehicles and manufactured in Oshkosh, Wisconsin, to a hybrid truck that can make deliveries to downtown Copenhagen during the period when deliveries are restricted. The company is headquartered in Södertälje, Sweden where more than 5,600 employees work in business operations, manufacturing and research and development.
The company adheres to a philosophy of continuous improvement which helps increase efficiency, raise productivity and ensure high quality. This approach goes beyond the manufacturing process, policies and operational procedures to include security systems such as their Morse Watchmans key control and management system. Having originally installed it more than 15 years ago, the company recently upgraded the KeyWatcher system to the new KeyWatcher Touch series complete with KeyWatcher TrueTouch software.
"Having experienced the reliability of the original KeyWatcher system, we didn't have any hesitation in moving forward with the new KeyWatcher Touch system," said Pentti Heikkinen, From Securitas AB that handles all the administration and service of the Key Watchers for Scania. "The decision was also supported by our trust in and relationship with Key-Control Sweden who were the integrator of record for this installation."
The new system is networked so that all 17 key cabinets located throughout the facility are connected. At any time, management can see live information detailing the status of the more than 600 keys held in the system - who has keys out, which keys are out, when keys are to be returned and so on. Live information can also be accessed via mobile devices for added convenience. And because the system is on the company network, authorized individuals can be notified by automated alerts in the form of emails or SMS texts if a key is not returned as scheduled for example, or if a high value key is accessed.
There are several other innovative features included with the KeyWatcher Touch series that contribute to Scania AB's continuous improvement measures. For example, audio prompts for the key remove and return process include instructions for door opening and closing and key removal and return. Additional time-saving features include fast KeyAnywhere and KeyFind capability.
The advanced TrueTouch software runs all programming, remote functions and reports for all KeyWatcher Touch locations while the server performs synchronizations of transactions and maintains the SQL database. Both access control systems and customized client control software interface with the server application.
"The new system makes administration of the keys simple and convenient," adds Pentti Heikkinen, From Securitas AB. "We can instantly access up to the minute information on any key or user and the software makes it easy to move user authorizations between cabinets. Our employees appreciate how easy it is to access a key when the key they are requesting is illuminated and they don't have to remember any key numbers."
"Key control delivers true benefits for a company like Scania that embraces efficiency, productivity and quality through technology,"€ Fernando Pires, Vice President of Sales and Marketing, Morse Watchmans. "The result is a system that delivers multiple operational and physical security benefits."
About Morse Watchmans
For over a century, Morse Watchmans has been known as an innovator of high-quality, cost-effective technology. Through seamless design, manufacturing and support, we earned the reputation as the world leader in security management products. Specializing in state-of-the-art key management (KeyWatcher®), guard tour (PowerCheck®) and key ring (KeyRing™) systems, our products are reliable, easy to use and expandable to meet your growing needs. Our company offers industry-leading software, service and support to ensure the effectiveness of your security investment. Contact us today and find the right solution for all your security management needs.
For more information visit www.morsewatchmans.com, email morse@morsewatchman.com or call 800-423-8256. 
More from Sensors, Monitors & Transducers