Keyence Corporation of America Releases the Clamp-On Micro Flow Sensor to Monitor Problematic Liquid Flow
Press Release Summary: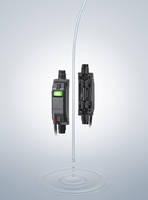 The Clamp-On Micro Flow Sensor is designed to be used with any liquid, including viscous and corrosive liquids. The product reduces the risk of clogging and pressure loss. The flow sensor has applications for monitoring instantaneous flow, accumulated flow and shot/dispensing.
---
Original Press Release:
Keyence America, KEYENCE Announces New Clamp-On Micro Flow Sensor
KEYENCE Corporation of America has released a new Clamp-On Micro Flow Sensor to add to the already impressive lineup of clamp-on flow devices. The FD-X Series is a solution for numerous applications where monitoring liquid flow is problematic or currently not possible. 

Utilize Everywhere
The FD-X Series can be used with any liquid such as water, oil, lubricants, chemicals, grease, adhesives, FIPG, etc. Viscous and corrosive liquids are not an issue either. Easily clamp-on to the outside of nearly any rigid pipe or flexible tube, regardless of material. The FD-X Series achieves an IP-68G rating and is housed in a chemical resistant, carbon fiber reinforced body.

Hassle-Free Design
Unlike mechanical or coriolis type meters, risks of clogging or pressure loss are completely eliminated with the new FD-X Series. The easy clamp-on design also eliminates the need for maintenance since the unit does not come in contact with the liquid it is detecting. 

Unmatched Detection
With a range of monitoring options, the FD-X Series is extremely versatile for all types of applications. Monitor instantaneous flow, accumulated flow, and even shot/dispensing applications. Micro and low flow detection down to a drop is now possible, all while maintaining impressive repeatability. 

The FD-X Series once again proves how innovative KEYENCE is with a product that will solve the toughest flow applications with a simple design and setup.

See more on the FD-X Series now: www.keyence.com/fdxpr
More from Packaging Products & Equipment