Key Interlock and Non-Contact Switches ensure machine safety.
Press Release Summary: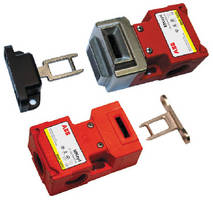 Available in 2 holding versions of 12 and 40 N, MKeyInterlock Switches provide position interlock detection for moving guards and are designed to fit leading edge of sliding, hinged, or lift-off machine guards. Sense Coded Non-Contact Switches, designed to interlock hinged, sliding, and removable guard doors, are especially targeted to operate in environments that require highest level of safety. Units have sensing distance up to 14 mm and are resistant to both dirt and water.
---
Original Press Release:
ABB JOKAB SAFETY Releases New 1,200 Unit Line of Key Interlock And Non-Contact Switches for Machine Safety
MKey Switches provide position interlock detection for moving guards; Sense Switches interlock hinged, sliding or removable guard doors

WESTLAND, Mich. –ABB JOKAB SAFETY, a leading supplier of machine safety equipment, has released a 1,200 unit line of new key interlock switches and non-contact switches, greatly expanding its range of tailored, turnkey safety systems for industrial applications.The new MKeyInterlock Switches provide position interlock detection for moving guards, and are designed to fit the leading edge of sliding, hinged or lift-off machine guards. They are available in two holding strength versions, 12N and 40N, and have several actuator types for differing applications.The new Sense Coded Non-Contact Switches, designed to interlock hinged, sliding and removable guards doors, are especially targeted to operate in environments that require the highest level of safety. They are very compact, making them easy to position and hide on gates and hatches.

"Our new comprehensive line of mechanical keyed interlock safety switches, solenoid locking safety switches and non contact Category 4 safety sensors answer an industry need for a single source supplier of machine safety controls and components," said Rich Gibson, ABB JOKAB SAFETY product manager. "The breath of the new product offering includes stainless steel switches for food and beverage companies, small housed sensors for packaging machines, and robust metal interlock switches for heavy manufacturing companies.  If there is a safety switch application, we have a product to handle it."

MKey Interlock Switches
MKey Switches are also available with a locking function for moving guards, allowing the switch to be locked in the protective position, preventing unwanted access to machinery until dangerous operations have ceased. The locking function is useful for processes that cannot be interrupted such as welding applications, and machinery with extended stopping periods like paper machinery; and for preventing unauthorized access to a particular area.

MKey Switches come in three different material compositionsto match the environment in which they will be used.The basic version comes in a full plastic body (polyester), witha plastic body/stainless steel head variationalsoavailable for use where the demands are higher on the interlock switch head.Both versions with the plastic body carry an IP67 enclosure protection rating. A rugged, full stainless steel 316 body is available for harsh applications often foundin food and chemical processing, carrying anIP69K enclosure protection rating, maintained by a double seal-lid gasket. This version can be high pressure hosed with detergent at high water temperatures.

The MKey Switches are suited for a broad range of machine safety applications including food, chemical, welding, paper converting, robotics, and press equipment

Sense Coded Non-Contact Switches
Sense Switches are resistant to both dirt and water, and have no dust collecting cavities, making them highly useful in environments where hygiene is paramount. The magnetic switches have a long working life since no mechanical contact is necessary for operation. The sensing distance of Sense Switches is up to 14 mm and has a high tolerance to misalignment.

Sense Switches are available in UL approved polyester and stainless steel 316. The stainless steel has a mirror polished finished (Ra4) suitable for CIP cleaning - food splash zones according to EHEDG guidelines.Non-contact switches can endure very harsh environments, including extreme cold and heat, and the high-pressure wash down often found in food processing and other sanitary applications. Machine safety applications for which the non-contact switches are suited include food/beverage, packaging, semi-conductor, and environmentally sensitive applications, either outside or extreme temperatures.

For more information the complete Safety Switches Catalog can be downloaded from the home page of www.jokabsafetyna.com.

About ABB
ABB (www.abb.com) is a leader in power and automation technologies that enable utility and industry customers to improve performance while lowering environmental impact. The ABB Group of companies operates in around 100 countries and employs about 130,000 people.

About ABB Low Voltage Products
ABB JOKAB SAFETY (www.jokabsafetyna.com) is a business unit of the ABB Low Voltage Products (LVP) division (www.abb.us/lowvoltage). ABB LVP manufactures low-voltage circuit breakers, switches, control products, wiring accessories, enclosures and cable systems to protect people, installations and electronic equipment from electrical overload, and complete machine safety systems and controls.

Alex Miller 
262- 236-3710
alex.x.miller@us.abb.com
888- 282-2123

 
Related