Kett Shears Cut Metal Without Distortion; Extends Material Usage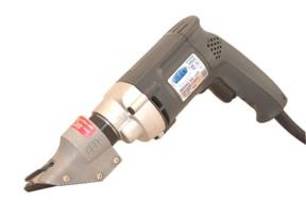 CINCINNATI, Ohio – (July 12, 2017) – Kett Tool Company helps body shop owners, metal fabricators and bus, car and truck repair experts conserve materials with the double cutting action of the KD-442 Double-Cut Shears. When cutting cold rolled (C.R.) mild steel and stainless steel, the double cut action of the KD-442 easily transfers any distortion produced in cutting to a waste strip, leaving behind material edges that are not rough or burred to allow maximum use of sheet material.
"The KD-442 quickly delivers straight cuts without burring or buckling the original piece, allowing manufacturers and contractors to not only produce a higher-quality, finished product, but to also save on material costs," said Kathy Conlon, president of Kett Tool Company.
Kett's KD-442 shears use a powerful five-amp pistol grip, 0-2,500 RPM variable-speed electric motor that effortlessly cuts through C.R. mild steel (up to 16 gauge), most grades of stainless to 18 gauge, sheet metal, spiral pipe, metal doors and metal studs – all at speeds of up to 170 inches per minute. The lightweight, maneuverable shears weigh only five pounds and have close cutting heavy duty blades that can cut a radius as small as seven inches – making the shears both portable for location usage and durable enough for daily shop operations. All shear heads are precision made in the U.S. featuring A2 tool steel blades for prolonged durability.
The KD-442 Double-Cut Shears are available through authorized dealers. For more information or to locate a dealer, visit www.kett-tool.com or call 513-271-0333.
ABOUT KETT TOOL COMPANY:
For over 75 years, KETT Tool Company has been producing quality electric and pneumatic portable power saws, shears and nibblers to cut a wide range of sheet material used in various applications. Kett Tool has dealers located in every state in the USA. To learn more about Kett, please visit www.kett-tool.com or call (513) 271-0333.
More from Architectural & Civil Engineering Products