Kett Scissor Shears Seal Edges of Materials; Reduces Rusting and Corrosion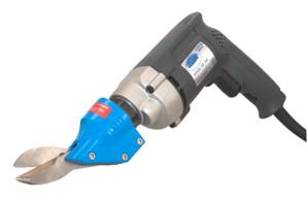 CINCINNATI, Ohio – (March 2, 2017) – Kett Tool Company helps plastic fabricators, siding installers and sign companies conserve materials with the swiping cut action of the KD-441 Scissor Shears. When cutting thin coated metals, the swiping cut action of the KD-441 seals the edges of the cut material, reducing the likelihood of rust or corrosion to provide a higher-quality, finished product.
"The swiping cut scissor action of the KD-441 quickly delivers precision cuts without any unwanted rusting or corrosion," said Kathy Conlon, president of Kett Tool Company. "Contractors and installers will save on what would have been replacement costs for damaged materials with this product design from Kett Tool."
Kett's KD-441 Scissor Shears use a powerful five-amp pistol grip, 0‐2,500 RPM variable-speed electric motor that quickly cuts through cold rolled (C.R.) mild steel (up to 24 gauge), wire mesh to 18 gauge, spiral pipe, metal studs, plastics and rubber, with a clean scissor action – all at speeds up to 2,500 strokes per minute. The lightweight scissor shears weigh only five pounds and have an adjustable cutting speed that can be tailored for individual cutting needs for optimal results. All shear heads are precision made in the U.S. featuring A-2 tool steel blades for prolonged durability.
The KD-441 Scissor Shears are available through authorized dealers. For more information or to locate a dealer, visit www.kett-tool.com or call 513-271-0333.
ABOUT KETT TOOL COMPANY:
For over 75 years, KETT Tool Company has been producing quality electric and pneumatic portable power saws, shears and nibblers to cut a wide range of sheet material used in various applications. Kett Tool has dealers located in every state in the USA.
To learn more about Kett, please visit www.kett-tool.com or call (513) 271-0333.
More from Electrical Equipment & Systems