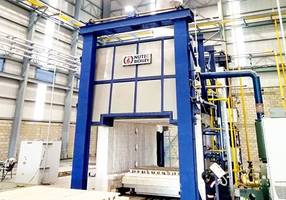 Despite extremely challenging conditions for international trade, Nutec Bickley's Ceramics Business Unit has just been successful in gaining an order in China for the supply of two 35m³ shuttle kilns and an automatic car transfer system.
The contract has been placed by a leading refractories producer with whom the company already collaborated on other projects – a $2bn+ turnover group with operations across the world.
The kilns – to be used for the firing of fused silica tempering rolls used in the glass industry – will have a maximum operating temperature of 1,250°C (2,280°F) and will be lined using Nutec Bickley's patented Jointless™ insulation. This system consists of monolithic ceramic fiber modules engineered to cover a complete kiln wall, door, or roof. It's a one-piece construction continuously shaped with ceramic fiber blanket folded and anchored, thereby eliminating joints between smaller modules (as common with standard ceramic fiber linings) and the gaps often found around the flues, which otherwise require higher maintenance.
The kilns will also feature Nutec Bickley's latest IMPS® (Integrated Multizone Pulsing System) for maximum combustion control and flexibility. This unique firing and cooling pulsing control technology brings many benefits, including:
Energy savings
Improved process control
Utilization of the maximum kinetic energy available from the burners
Improved temperature uniformity without the need for excess air
High turndown ratio
Easy re-zoning of the kiln via the software program
High gas recirculation volumes
Better energy transfer from the gases to the product
Reduced NOx generation
"We are extremely pleased with the faith shown in us and in how negotiations and technical discussions were taken forward," commented international sales director, Adam Slater: "The contract was agreed right in the middle of difficult Covid-19 conditions and yet we aim to be in a position to deliver both kilns later this year. These technically superior shuttle kilns will be the latest in a number of units already supplied to this particular customer. The kilns will be fully assembled and tested at our Monterrey facility before shipment to China."
Nutec Bickley shuttle kilns offer manufacturers great flexibility as well as industry-leading fuel efficiency and high quality output. They can accommodate a large range of product loads and firing cycles, ideal in this case for varying roller sizes and different kiln furniture set-ups. Further enhancing smooth plant operation, the company's proven automated transfer car system will link loading / unloading positions with both kilns and dryers.
For further details on Nutec Bickley's state-of-the-art shuttle kiln technology, please contact:
Adam Slater – International Sales Director
+44 7717 880888
adamslater@nutec.com
Contact This Company Download Spec Sheet
More from Thermal & Heating Equipment