KASTO to Launch Two New Sawing Machines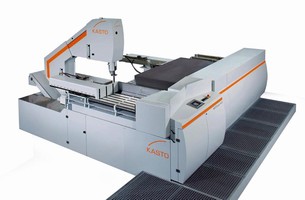 Two new sawing machines, a bandsaw and circular saw, will be launched in the UK by KASTO at MACH 2008, alongside the company's other sawing and storage equipment exhibits.

Heavy-duty plate saw cuts tool steel quickly

KASTOcross is a new, heavy-duty, vertical bandsaw for cutting billets, plates, square or flat materials up to 1,060 x 2,060 mm cross-section. In the main, users are likely to be cutting orders in steel distribution or tool and die manufacture, or trimming and cutting stock to standard lengths in steel mills. However, the CNC bandsaw is also suitable for cross-cutting other 'difficult' materials such as titanium, Hastelloy and Inconel.

The German-built machine is available in four sizes and uses either tungsten carbide tipped or bi-metal blades of 41 mm width. Semi-automatic and automatic versions can be supplied with maximum cut piece feed lengths of 600, 1,500 or 3,000 mm.

An advantage of the KASTOcross design over a horizontal bandsaw with the same cutting range is its ability to saw material more than twice as quickly. Capital investment is 25 to 30 per cent lower and blade costs are reduced by up to 70 per cent. Direct positioning of the material by crane onto the machine's infeed roller conveyor results in fast set-up times.

The ergonomic operating panel of the KASTO control is readily available to the machine operator and easy to use.

Lateral guidance of the saw blade is by hydraulically pre-tensioned carbide slideways. The upper blade guide can be positioned hydraulically from the control to suit the height of material being processed. Blade tension is maintained in-cycle and released when the machine is not cutting.

Blade speed, which is programmable between 12 and 120 m/min, is similarly supervised. A wide infeed range from 0.5 to 250 mm/min means that optimal cutting conditions can be selected for any material type, quality and shape. The machine stops automatically in the event of blade breakage or if an out-of-tolerance signal is received from the band deviation monitor. The latter affords the flexibility of slowing band speed once or twice by 25 per cent if the preset deviation exceeds 75 per cent, giving the cut every chance of being completed.

Material feed is by means of a non-driven roller conveyor to which the billet is firmly clamped by push-down vice jaws. Optionally, powered material feed under numerical control via a ballscrew drive allows very accurate positioning of the material. The outfeed roller conveyor can be either manual or powered and will support three tonnes per linear metre.

The so-called BasicControl CNC system is anything but basic. Running under Windows and equipped with a colour touch screen interface, it stores details of up to 98 jobs (piece length and number combinations), the number counting down on-screen to the desired total. After entering the required band speed and the material's type and cross-sectional size and shape, blade infeed is adjusted automatically. Remaining blade life is continuously displayed in square centimetres to assist in planning blade changeover.

Versatile circular saw produces small to medium volumes economically

By equipping its new KASTOgripspeed 10 with a vice for pulling stock through the machine rather than pushing it, as with most automatic circular saws for production work, KASTO will introduce a facility for economical cutting-to-length of medium to small quantities.

It can even be used for order-cutting stock of mixed sizes and cross section if fitted with a chain magazine instead of the usual adjustable inclined magazine or optional bundle loader. Various sorting devices are available to suit this mode of use.

Having a cutting capacity of 102 mm diameter solid bar, or 80 mm square, the machine is able to saw steel of high tensile strength up to 1,400 M/mm2, as well as superalloys, using tungsten carbide- or cermet-tipped saw blades. In one test at a UK site, 28 mm diameter Nimonic 80A was cut in 11.5 seconds with a Kanefusa 120-tooth blade running at 40 m/min and feed per tooth (fz) of 0.035 mm.

An 11 kW motor drives the 360 mm diameter blade at infinitely variable peripheral speeds from 17 to 175 m/min. Infeed speed is programmable in the range 10 - 4,000 mm/min, with 20 m/min rapid return. The kerf is narrow at 2.5 mm to avoid undue material wastage, leading to more cut parts for a given length of stock.

The bed is inclined to ensure good chip clearance and is filled with polymer concrete to absorb vibrations, promoting high accuracy of cut. Material feed stroke is 500 mm (multiple feed up to 10 metres), also actuated via servo motor and ballscrew under CNC. Four-point workpiece clamping is hydraulic with infinitely variable pressure reduction from 12.5 to 2 kN to suit the type and shape of stock.

Contributing also to precision cutting and short cycle times is the blade downfeed, which is servo driven via a pre-tensioned ballscrew. Carbide pads on both sides of the blade, very close to the entry and exit of the teeth, ensure minimal run-out and maximise blade life. Chip removal from the blade is achieved using a power-driven wire brush with automatic wear compensation.

The touch-screen, Windows-based control has a modern operator interface and material library for fast, convenient setting of all machine functions. The memory stores up to 500 material records and 200 jobs defined by combinations of length and number of pieces. Urgent jobs can be promoted within the queue at any time. Material usage and job duration are calculated by the control, which also optimises stock usage to keep remnant lengths to a minimum.

KASTO Ltd
Unit 3, Flanders Industrial Park
Flanders Road, Hedge End
Southampton, Hampshire SO30 2FZ.
Tel: 01489 772882.
Fax: 01489 772888.
E-mail: sales@kasto.uk.com

Web site: www.kasto.uk.com

Contact: Ernst Wagner
Managing Director.

THE RIGHT IMAGE Ltd
PO Box 42, Twickenham, TW1 1BQ.
Tel: 020 8891 0603.
E-mail: therightimage@aol.com
Contact: Chris Wright.

More from Machinery & Machining Tools