Kardex Remstar Automation Ensures Lesley Cosmetics Picks the Perfect Color Every Time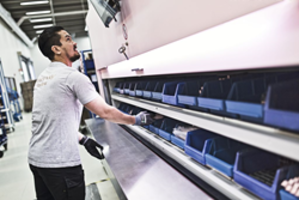 Lesley Cosmetics recently integrated one Kardex Remstar Megamat RS Vertical Carousel to ensure high precision and fast delivery times.
WESTBROOK, MAINE (PRWEB) NOVEMBER 13, 2018
Mary Kay Inc. is one of the leading companies specializing in the direct sale of makeup and skincare products. Lesley Cosmetics is the brand's exclusive distribution partner in Finland, Norway, and Sweden. The headquarters, located in Mölndal, Sweden, has a product range consisting of more than 600 SKUs. Orders placed in the online shop are shipped from this location.
Mary Kay was launched in the Nordic market by Lesley Cosmetics in 1992. In addition to having a network of independent beauty consultants, the makeup and skincare products have been sold via the company's online shop since 2003. All orders for consultants and online customers in the Nordic market are processed from the Lesley Cosmetics facility in Mölndal, Sweden.
The incoming orders received by the warehouse contain an average of 17 lines per order. Lesley Cosmetics needed an efficient solution for these complex orders, one which cut the delivery time and increased the order picking speed and precision. Further requirements included optimizing the flow of goods in the warehouse and introducing ergonomic workstations for the employees.
Lesley Cosmetics implemented one Megamat RS 350 Vertical Carousel from Kardex Remstar in combination with the Power Pick Global inventory management software. All items are stored on carriers within the Megamat RS, operating similar to a ferris wheel, a carrier is brought to an ergonomically positioned pick window via the shortest path and presented to the operator for picking.
Integrated with a Position Indicator LED light bar, each item to be picked is identified with a simple light on the position indicator which increases the picking accuracy and speed. Picking 3,000 order lines per day, Lesley Cosmetics has increased picking up to 300% in some instances. In addition, the system makes it possible to pick goods and replenish stock levels simultaneously, making the process even more efficient. 
Lesley Cosmetics is dedicated to the Mary Kay brand and decided to do something special with the Megamat RS. It's Mary Kay pink; helping maintain the brand, even in the warehouse!
Kardex Remstar, LLC, a company of the Kardex Group is a leading provider of automated storage and retrieval systems for manufacturing, distribution, warehousing, offices and institutions. For information about our dynamic storage solutions, call 800-639-5805, visit http://www.kardexremstar.com.
More from Computer Hardware & Peripherals