Kalischatarra, S. de RL de CV Purchases Two Innovative Eriez® P-Rex® Drums to Improve Performance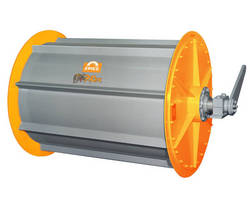 Erie, Pa.- Eriez®, a leading manufacturer to the recycling industry, announces that Chihuahua, Mexico-based Kalischatarra, S. de RL de CV has purchased two Eriez P-Rex® Permanent Rare Earth Drum Magnets to replace two-year-old competitor drums.

"This order is a testament to the superiority of P-Rex technology, considering the existing electro-axial drums were not burned-out, but were simply not performing well," says Tim Shuttleworth, Eriez President and CEO.

"Current electro-axial drums are still designed using a 20-year-old technology," explains Mike Shattuck, Eriez Heavy Industry Project Manager. "Electro-axial drums are limited and have several inherit shortcomings when compared to Eriez' P-Rex Permanent Rare Earth Drum Magnets."

Electro-axial drums VS. P-Rex Permanent Rare Earth Drum Magnets

While electro-axial drums provide only one "flip" for cleaning, powerful P-Rex delivers three or more "flips." Electro-axial drums suffer significant strength loss after start-up, up to 40 percent! Since P-Rex has no electrical resistance, there is no measurable loss of strength. The inferior design of electro-axial drums results in extremely weak wide areas along the outside edges. In contrast, P-Rex easily captures ferrous material from edge-to-edge due to its wider working zone.

"In short, P-Rex outperforms electro-axial drums in every measure," explains Shattuck. "P-Rex's sophisticated performance translates into one to two percent more recovery, providing cash flow ROI to justify installation," he says. "Another critical cost-saving advantage of P-Rex is the drum's ability to capture bothersome knuckles and meatballs, preventing them from being missed into the non-ferrous stream where they damage separation equipment and ignite fluff fires."

Samuel Kalisch of Kalischatarra reports that the recently purchased P-Rex Drums are performing exceptionally well. He says, "We noticed improved recovery right away when we placed the first P-Rex Drum into service, so we went ahead and ordered the second as well. With the multiple flipping action, we get a cleaner frag product as well as better recovery."

For more information on the Kalischatarra, S. de RL de CV installation, contact Kalischatarra at kalischatarra@kalisch.com.mx or Eriez at Eriez@eriez.com. For more information on P-Rex or any product in Eriez' innovative recycling line, visit http://en-us.eriez.com/Products/Markets/Recycling/.

Eriez is recognized as world authority in advanced technology for magnetic, vibratory and inspection applications. The company's magnetic lift and separation, metal detection, x-ray, materials feeding, screening, conveying and controlling equipment have application in the process, metalworking, packaging, recycling, mining, aggregate and textile industries. Eriez manufactures and markets these products through 12 international facilities located on six continents. For more information, call toll-free (888) 300-ERIEZ (3743) within the U.S. and Canada. For online users, visit www.eriez.com or send e-mail to eriez@eriez.com. Eriez World Headquarters is located at 2200 Asbury Road, Erie, PA 16506.

More from Electrical Equipment & Systems