Kalamazoo Industries Model S612V Combination Sander Offers Economical Alternative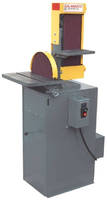 The Kalamazoo Industries Model S612V Combination Sander with a vacuum base dust collector offers an economical alternative to purchasing individual sanders. Combining a belt sander and disc sander in one machine also improves productivity on jobs requiring frequent use of both types of machines. The belt sander portion features a quick-change belt that utilizes a single pre-tensioned lever for fast belt changes.

The Model S612V sander is made in the USA and features a built-in 100 CFM dust collector base with cartridge filter and a 3 HP motor for single or three phase operation. The belt sander has a 6" x 10" cast iron worktable with 1/2" x 1/8" slot, a 6-1/2" x 14" steel platen and a 6" x 48" belt with a speed of 2800 SFPM. The disc sander has an 8" x 14" cast iron worktable, a 12" aluminum disc and a 5/8" arbor with a 2500 RPM speed.

More from Test & Measurement