K2 Axial Piston Pumps are equipped with fan drive control.
Press Release Summary: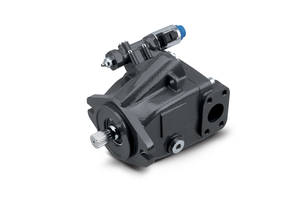 Suitable for agriculture, construction, road-building, material-handling, forestry, and turf-care industries, K2 Axial Piston Pumps feature quieter pump design for allowing dissipation of noise and vibration. Designed with modular endcaps for increased flexibility in installations, product comes with 30 percent reduced weight. Unit provides maximum efficiency with reduced length and width by up to 20% and 10% respectively.
---
Original Press Release:
Danfoss Launches K2 Axial Piston Pump
The newest offering in the Series 45 pump portfolio, K2 is a smaller, flexible off-highway solution.
Danfoss Power Solutions is updating the Series 45 pump portfolio with the addition of the K2 frame axial piston pump. The smaller K2 frame, 25-45cc, has been reduced in length by up to 20 percent, width by up to 10 percent, and weight by up to 30 percent, offering customers a smaller solution that continues to provide maximum efficiency and productivity.
"As we designed the K2 axial piston pump, we focused on creating an optimized package and improving performance to meet the needs of our customers," said Jeff Brenner, Director of Medium Power Open Circuit Sales, with Danfoss Power Solutions. "With the K2, we're able to deliver the best combination of package size and weight on the market, offering our customers additional flexibility in their design and manufacturing."
The modular design of the K2 axial piston pump offers greater flexibility in installation and allows the pump to be easily integrated into machine systems. K2 pumps offer a wide range of displacements, controls, and configurations that have been designed to fit multiple off-highway applications in the agriculture, construction, road-building, material-handling, forestry, and turf-care industries.
K2 features and benefits
Highlights of K2 axial piston pump features and benefits include:
Reduced weight and size

 By decreasing the package size and reducing the weight by up to 30 percent, the K2 pump improves performance with increased rated pressure, and higher rated speed and temperature capabilities. These improvements work together to give the end user a better, more reliable machine.

Quieter pump design

 Additional features inside the housing of the K2 pump allow for dissipation of noise and vibration, resulting in a more comfortable operator experience. Sound-deadening characteristics also help meet local industry regulations for noise.

Greater efficiency with Fan Drive Control (FDC)

K2 pumps with fan drive controls allow lower minimum system pressures, resulting in a slower minimum fan speed. This feature reduces fan drive noise and improves the efficiency of the fan drive system. Improved efficiency also means saved costs for the end user.

Modular endcaps for flexibility

New endcap configurations available for the K2 pump are optimized for size and weight to provide greater flexibility in installation.
"The ability to integrate the entire Series 45 portfolio with PVG and PLUS+1® solutions offers an infinite number of control combinations and gives OEMs the ability to refine them to meet specific requirements," added Brenner.
The K2 axial piston pump, as with all Danfoss products, is supported by product and system experts located around the globe.
For more information, visit powersolutions.danfoss.com or contact a Danfoss distributor.
Around the world, mobile equipment manufacturers rely on Danfoss expertise for the most innovative work, propel, control and steering solutions. Working in partnership with customers, Danfoss provides high-value, high-performance components for a broad range of mobile equipment applications. Danfoss designs, manufactures and sells a complete range of engineered hydraulic and electronic components including hydrostatic transmissions, mobile electronics, orbital motors, steering components and PVG proportional valves.
For technical information:
Danfoss Power Solutions (US) Company
2800 East 13th Street
Ames, Iowa 50010 USA
Telephone: +1 515 239 6000
Fax: +1 515 239 6318
North America:
Dan Wakefield                         Danfoss Power Solutions                               Phone: +1 515-239-6229                                                                                                   Ames, Iowa, USA                                         dwakefield@danfoss.com
Europe:
Mikael Hansson                       Danfoss Power Solutions                               Phone: +49 4321-871-845
                                              Neumuenster, Germany                                 mhansson@danfoss.com
China:
Kobe Zeng                              Danfoss Power Solutions                                Phone: +86 21-3418-5353
                                              Shanghai, China                                             kzeng@danfoss.com
For media information and photos:
Americas & Europe:
Nikoline Herzog
Danfoss Power Solutions
Nordborg, Denmark
Asia-Pacific:
Kentaro Ide
Danfoss Power Solutions
Phone: +81 6-6395-6066
Osaka, Japan
China:
Kelly Xu
Danfoss Power Solutions
Phone: +86 21 3418 5336
Shanghai, China
More from Machinery & Machining Tools