JVC Showcases New Sports Production Streaming Camcorder at CES 2016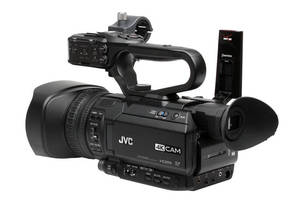 WAYNE, NJ – JVC Professional Video, a division of JVCKENWOOD USA Corporation, will demonstrate its new GY-HM200SP 4KCAM camcorder with embedded score panel graphics at CES 2016 (Booth N105), which runs Jan. 6-9 in Las Vegas, Nev. Designed to enhance single-camera HD sports coverage, the camera produces a real-time score overlay on recorded and streamed video output without the use of an external CG and production switcher.



"Local sports coverage is often produced by schools or public access channels with limited resources, so multi-camera productions or a dedicated CG are frequently not an option," explained Ian Scott, vice president, Professional Video Division. "JVC's new GY-HM200SP provides an easy, innovative, and affordable way to produce professional-quality, single-camera sports coverage. One person can shoot, insert graphics, record, and stream the production live directly from the camera."



The GY-HM200SP receives score information directly from a mobile device connected wirelessly to the camera using an intuitive GUI, or interfaces directly to the sports venue's own scoreboard controller through a wired or wireless interface. The camera includes basic layouts to cover a wide variety of sports, but JVC can also customize the overlay with the names and logos of teams.



Beyond its built-in graphics overlay, the GY-HM200SP includes all the professional features of the GY-HM200, including an integrated 12x zoom lens with optical image stabilizer and 24x dynamic zoom in HD mode. Its built-in HD streaming engine with Wi-Fi and 4G LTE connectivity allows live HD transmission directly from the GY-HM200SP to the ProHD Broadcaster server powered by Zixi, Wowza Streaming Engine, other hardware decoders, and content delivery networks (CDNs) like Ustream and YouTube. The camera features dual XLR audio inputs and an integrated handle with hot shoe and dedicated microphone mount, and offers a variety of 4K, HD, and SD recording modes to economical Class 10 SDHC/SDXC memory cards.



The GY-HM200SP has an MSRP of $2,795 and will ship in January.



JVC will also demonstrate a prototype of its new "Sports Coaching System" at CES. Designed to help coaches analyze athletic form and skills, the multi-camera system documents a player's golf swing, pitcher form, or other movements from different angles. Up to four high-speed HD video cameras (300fps), each equipped with 10x zoom lenses and controlled through Android OS, send video to a computer via Wi-Fi for instant, synchronized slo-mo playback.



Also during CES, JVC will showcase its latest D-ILA technology with a demonstration of its DLA-RS600 Reference Series custom install home theater projector at the Venetian Las Vegas, Suite #31-308. The suite will be open to the public from 10 a.m. to 6 p.m. on Wednesday, 9 a.m. to 6 p.m. Thursday and Friday, and 9 a.m. to noon on Saturday.



ABOUT JVC PROFESSIONAL VIDEO

Headquartered in Wayne, New Jersey, JVC Professional Video is a division of JVCKENWOOD USA Corporation, a wholly-owned subsidiary of JVCKENWOOD Corporation. The company is a leading manufacturer and distributor of broadcast and professional video and audio equipment, D-ILA front projection systems, and Super LoLux HD video security products. For further product information, visit JVC's Web site at http://pro.jvc.com or call (800) 582-5825.

More from Electronic Components & Devices