Jungheinrich's Conceptual Ride-On Pallet Truck Makes Its North American Debut At Promat 2009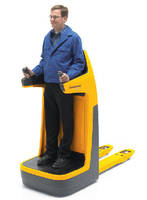 RICHMOND, VA - Today, at ProMat booth #2019, Jungheinrich Lift Truck Corporation presents a technology study in the form of a life-size model of a ride-on pedestrian pallet truck. This Concept Truck looks different than a traditional end-rider pallet truck; it provides a "floating" type of ride for the operator, and greater energy efficiency than today's vehicles. In fact, the energy efficiency characteristics it theorizes would even exceed those found in the 3-phase AC technology currently used in Jungheinrich trucks by some 15% and could potentially lead to considerably higher productivity in customer applications.

The energy storage system presented in this study is based on the use of seven lithium-ion batteries. This highly efficient battery technology is expected to be a viable alternative to vehicle power sources based on hydrogen or methanol fuel cells. Benefits include significant energy cost savings for the user and a lower environmental impact.

Lithium-ion batteries are maintenance-free, are significantly more efficient, and have a usable lifetime twice as long as conventional lead acid batteries. And with approximately one-third of the volume and a quarter of the weight of traditional batteries, they allow the truck to be lighter and more compact. The Concept Truck has a total length of 69.5 inches and a width of 28.4 inches. It is approximately 20.5 inches shorter than traditional ride-on pallet trucks and is ideal for use in confined spaces.

Additionally, a complete recharge of the lithium-ion batteries could take as little as one hour, effectively eliminating the need for a battery change. To top off a battery, the operator could drive into a docking station, where electrical contacts for charging would be made through the fork tips. The entire charging process would be fully automated. The operator could potentially recharge the truck during his or her lunch break.

Working in conjunction with its lithium-ion batteries, the Concept Truck's direct drive design could permit considerably longer travel distances and shorter charging times than possible with current designs. Direct drive means transmissions are unnecessary, resulting in even more efficiency, not to mention considerable noise reduction.

Noise reduction is also an attribute of the truck's lift system - which features no hydraulics and uses a re-circulating ball screw. The operator can experience a remarkably low level of noise while significantly gaining in efficiency.

The advanced ergonomics in the Concept Truck would allow both forward and backward travel to be controlled via thumb movements, ensuring fatigue-free and intuitive operation. In addition, a cushioned, noise-free chassis would afford the operator the novel sensation of "floating" with the truck -- rather than riding on it.

For a look at what the future may hold, please be sure to view the Jungheinrich Ride-on Pallet Truck Concept Vehicle at Booth #2019 at ProMat.

About Jungheinrich

Jungheinrich is the world leader in warehouse logistics technology. Founded over fifty years ago, the company has grown from its beginnings as a European manufacturer of materials handling equipment to an international supplier of industrial trucks, warehousing technology and materials-flow products. Today, it is a major supplier of forklift trucks around the globe, and offers a complete range of materials handling equipment, rack systems and services related to manufacturing logistics.

Jungheinrich's growth has been due in large part to the high value it has always placed on leading-edge design and technological innovation. This is seen, for example, in the company's proprietary 3-phase AC motor and controller technology, and in a host of productivity and ergonomic enhancements. Jungheinrich has more than 120 strategically-located service support centers and store operations in the U.S., and sales and service companies in countries around the industrialized world.