Jungheinrich Introduces New Electric Pedestrian Stacker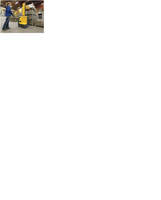 Jungheinrich has brought its new EMC 110 electric pedestrian stacker to market in April 2009. This ergonomically leading-edge truck is not only easy and safe to use, it is also incredibly versatile: Its applications range from stocking supermarket shelves to supplying components to production machines.

The new EMC 110 stacker can transport up to 1,000 kilogrammes of weight, with a lift height up to 2.0 meters. Thanks to its compact design, performance efficiency and extreme operator-friendliness, the truck is capable of deployment in a broad range of application settings.

"This truck is designed in such a way that it can be used effortlessly in the supermarket, but also for production supply," comments Oliver Hiekel, Head of Product Management and Product Marketing pedestrian trucks at Jungheinrich. By allowing the operator to lift pallets quickly and easily to the required height, the stacker also doubles as a lifting table in a variety of situations: The operator can easily pick and deposit goods from the pallet without any stress on the back.

Multi-function tiller head: Easy, safe and intuitive to operate

The EMC 110 comes standard-equipped with a newly developed multi-function tiller head, which is specially designed to meet the full range of operator requirements. Colour coding provides for intuitive operation, and the multi-function head guarantees smooth operation of the truck in any tiller position. All travel functions are directly controllable from the tiller head, which is easily accessible and eliminates the need to reach around to levers on the chassis. In the words of Oliver Hiekel: "In practice, this means the operator can concentrate entirely on loading and depositing goods, resulting in a considerable improvement in user safety."

A series of ergonomic and technological refinements to the EMC 110 makes this new Jungheinrich pedestrian stacker especially safe and easy to use: The long tiller, for example, ensures maximum safety and low steering forces for the operator. A further optimization involves the optional two-stage hydraulics, which are controlled electro-hydraulically via a button on the tiller head and provide for a finely adjustable lowering speed. "This guarantees a gentle depositing of delicate goods," says Hiekel.

The EMC 110 is a highly compact pedestrian truck. The short front length (l2 chassis dimension incl. back of fork: 535 millimetres) and low total weight of only 545 kilogrammes makes this stacker ideal for deployment in confined spaces, including elevators, but also on mezzanines. The crawl speed button enables the operator to move the truck safely with the tiller in an upright position. And the narrow centre mast guarantees optimum visibility.

More from Electrical Equipment & Systems