Joya™ Touch A6 Healthcare device features 3-axis accelerometer.
Press Release Summary: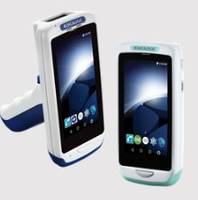 Joya™ Touch A6 Healthcare Device comes with 4.3 in. FWVGA multi-touch display and Corning Gorilla® glass 3. Suitable for medical staff real-time communication, medication administration, and data collection activity applications, unit is powered by Android™ 6 Marshmallow operating system and comes in chemical resistant plastic housing. Product is embedded with Qualcomm Snapdragon processor and is offered in handheld and pistol grip versions. Device offers 12 hours of battery life and uses wireless charging technology.
---
Original Press Release:
Datalogic Announces New Joya Touch Healthcare Android Device
The flexibility of Android in an enclosure resistant to harsh disinfectant solutions Datalogic, a global leader in automatic data capture and industrial automation markets, announces the Joya™ Touch A6 Healthcare (HC) device. This multi-purpose device is ideal for use in bedside care, medical staff real-time communication, medication administration, and other data collection activity in healthcare applications.
"The Joya Touch A6 Healthcare device combines the industry's first wireless charging technology, Datalogic's state-of-the-art 2D reading capabilities and the flexibility of the Android operating system housed in a chemical resistant plastic housing," states Paul Timmerwilke, General Manager Healthcare Industry Unit at Datalogic. "Making this device an exceptional alternative to the consumer grade tablets in use at many healthcare facilities today."
The Joya Touch A6 HC device architecture incorporates a powerful Qualcomm Snapdragon processor and runs the Android™ 6 Marshmallow operating system (field upgradable to Android 7.1 Nougat). Its ergonomic design and ease of use is available in two form factors: a handheld version resembling a smartphone and a pistol grip version with a comfortable trigger. The device is charged using the healthcare industry's first wireless charging technology eliminating the need to clean contacts on the unit and cradle. Datalogic's wireless charging technology is compliant with the most widely used standard in the industry, offering wide compatibility. This feature radically reduces support costs and extends the device life. Multi-bay and single bay charging cradles support both form factors.
This device offers six charging profiles, allowing users to choose the profile that best suits their needs. Fully charged status is achieved in only 2 hours and the Boost Recharge feature ensures 80 minutes of use after only 15 minutes of charging.
Two way voice communications using the Voice over Internet Protocol keeps staff connected throughout the enterprise. Wireless communications are handled through enhanced Wi-Fi connectivity with IEEE 802.11 a/b/g/n in both 2.4GHz and 5.2 GHz bands and Bluetooth® Wireless Technology.
Further features include:
4.3" FWVGA multi-touch display
3-Axis Accelerometer detects changes in screen orientation
Chemical resistant housing that withstands wipe downs with hospital specific cleansers to help prevent spread of infection
Datalogic SoftSpot™ technology for innovative triggering through the touch display
Corning Gorilla® Glass 3 protects the display
Advanced 2D imaging technology
Datalogic's patented 'Green Spot' technology for visual good-read feedback
Vibration alert Outstanding
12 hour battery life
The Joya Touch A6 HC device is an ideal solution for use in the various areas within different healthcare environments.
Datalogic is a global leader in the automatic data capture and process automation markets, specialized in the designing and production of bar code readers, mobile computers, sensors for detection, measurement and safety, RFID vision and laser marking systems. Datalogic solutions help to increase the efficiency and quality of processes in the Retail, Manufacturing, Transportation & Logistics and Healthcare industries, along the entire value chain. The world's leading players in the four reference industries use Datalogic products, certain of the attention to the customer and of the quality of the products that the Group has been offering for 45 years. Today Datalogic Group, headquartered in Bologna (Italy), employs approximately 2,700 staff worldwide, distributed in 30 countries, with manufacturing and repair facilities in the USA, Brazil, Italy, Slovakia, Hungary and Vietnam. In 2016 Datalogic had a turnover of 576.5 million Euro and invested over 50 million Euros in Research & Development, with an asset of more than 1,200 patents in multiple jurisdictions. Datalogic S.p.A. is listed in the STAR segment of the Italian Stock Exchange since 2001 as DAL.MI. More information about Datalogic at http://www.datalogic.com.
Related