Joint Sealer fills concrete expansion joints.
Press Release Summary: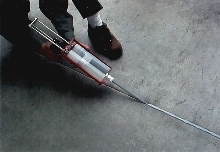 Tigerthane 220(TM) provides durable, flexible seal that will not become brittle and break out with movement. It is suitable for repairing spalled joints, filling random cracks, and patching gouges, holes, and surface defects. Two-part, polyurea elastomer sets in applications ranging from freezing conditions to 130 deg F and is traffic ready within 60 min. It prevents contaminants from pooling in joint areas, which is useful in maintaining sanitary conditions.
---
Original Press Release:
Flexible Polyurea Elastomer Joint Sealer

WALL, NJ -- Expansion joints are the most common type of moving cracks. They allow sections of your concrete floor to freely "expand" and "contract" in response to temperature changes in the surface. These cracks are your floors weakest spots and when combined with moderate to heavy traffic you have a potential for constant damage. To fill these joints a material is needed that will flex to accommodate movement. Tigerthane 220(TM) from Garon Products will provide you with a durable flexible seal that will not become brittle and break out with movement. Tigerthane 220(TM) is ideal for repairing spalled joints, as well as filling random cracks and patching gouges, holes and surface defects. Tigerthane 220(TM) is a rapid setting, 100% solids, flexible, two-part polyurea elastomer. Tigerthane 220(TM) is designed to set in applications ranging from freezing conditions to 130°F and will be traffic ready within 60 minutes. Most importantly, Tigerthane 220(TM) is not brittle like ordinary concrete repair materials allowing it to move with the floor. The use of Tigerthane 220(TM) prevents contaminants from pooling in joint areas-especially necessary in food plants and other floor surfaces where sanitary conditions are required. Tigerthane 220(TM) is available exclusively through Garon Products, a major manufacturer of concrete repair products and floor & deck coatings for over 42 years. For more information and a free catalog circle Reader Service # , or contact Garon Products, 1-800-631-5380 or visit us at www.garonproducts.com

GARON PRODUCTS, INC., P.O. BOX 1924, WALL, NJ 07719-1924 1-800-631-5380 FAX 732-223-2002
More from Packaging Products & Equipment