Joining Systems provide protection against disassembly, theft.
Press Release Summary: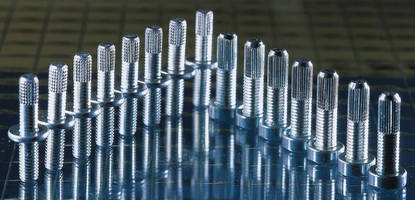 TriPress® fasteners, featuring triangular cross-section shanks, press into round core holes, which take on shape of fastener as result for form-fit joint. After shank is pressed in, fastener is resistant to stripping and pull-out. LocTec® screw system combines special screw drive geometry with special assembly tool, which makes it impossible to loosen or remove fasteners without destroying joint. Disassembly is only possible by drilling out screw or cutting slot in screw head.
---
Original Press Release:

TriPress and LocTec: Innovative Joining Systems Provide Effective Protection Against Disassembly and Theft



New secure joining systems provide maximum security - Cannot be dismantled using conventional means - Reduce costs by eliminating supplementary assembly and security material - Ensure easy interchangeability with existing joining systems

Using special joint components to secure critical devices has been common practice for many years. Market requirements for joining systems of this sort are fairly complex. They can generally be classified into two main types: temporary and permanent.

Comparison of joint technologies
Secure temporary joints are required in all situations where disassembly is necessary in the event of damage or repair. The market requirements in this case, in addition to hindering joint disassembly, include low component and tool costs as well as high operational and process reliability. Protection against disassembly is usually achieved by using a special drive geometry that requires a special tool for loosening the joint components. By contrast, permanent joints are used primarily for non-repairable components and in situations where quality and safety considerations dictate that joints need not and should not be disassembled - for example, airbag applications in the automotive sector or secure module hardware for solar power systems.

Arnold Umformtechnik set new market standards with two innovative solutions for secure permanent joints.

The first of these is the TriPress® line of press-in fasteners, which can be produced in various versions and combinations. Unlike conventional products with round shanks, they have shanks with a trilobar (triangular) cross-section. The fasteners are pressed into round core holes, which take on the trilobar shape of the fastener as a result. This produces a form-fit joint, which minimises pressing force. After the shank is pressed in, the fastener has high resistance to stripping and pull-out - significantly greater than the breakaway torque of a conventional fastener. TriPress® fasteners are especially suitable for pressing into ductile light metals and plastics.

The market analysis carried out prior to the development of this new fastener also revealed that current permanent joints are mainly implemented by using one-way screws and nuts, by using secure drive geometries that require special tools to loosen the fasteners, or by hammering small ball bearings into the drive recesses of the fasteners. This means that a variety of more or less practical threaded fastener systems for secure permanent joints are already available. In order to be able to offer an alternative that does not require any changes to process technology, Arnold Umformtechnik not only developed the TriPress® system, but also strove to improve on existing secure joining systems with the LocTec® screw system as an improvement to existing systems.

This system combines a special screw drive geometry with a special assembly tool, which makes it impossible to loosen or remove the fasteners without destroying the joint. The drive recess integrated in the screw head allows the fastener to be screwed in using a special matching tool. The flank shape of the drive recess makes it impossible to loosen the screw after assembly, even with the special tool. Attempting to do so causes the tool to rotate out of the screw head on its own. Disassembly is only possible by drilling out the screw or cutting a slot in the screw head. Both options void the warranty, and they hinder theft due to the considerable amount of noise generated by these processes. The LocTec® system can be used for threaded-fastener joints in all materials commonly used in industrial processes. This achieves the goal of the analysis, which was to improve existing secure permanent joint systems used in industrial processes.

More from Material Processing