Joining Aluminium Sheets Cost-Effectively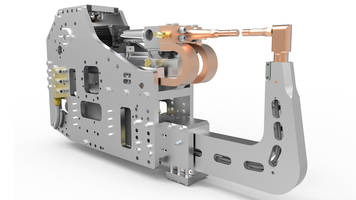 Fronius Perfect Welding is expanding its product range for resistance spot welding. Alongside the DeltaSpot system with its revolutionary circulating process tape, the technology leader is now adding to its portfolio the new DeltaCon welding gun for conventional spot welding. The advantages for customers include minimal downtimes, optimal accessibility to components and high productivity when joining aluminium.
The new DeltaCon spot welding guns from Fronius enable users in sectors such as the automotive and component supply industry to perform spot welding processes easily, cost-effectively and flexibly. The guns will be available in three variants – Basic, Basic plus and Loaded – and will be available with or without welding gun adjustment, depending on the version. The Basic and Basic plus variants are what are known as seventh-axis systems, where the welding gun adjustment is performed by the welding robot. On the Loaded model, this function is assumed by the Fronius welding control. The welding gun adjustment is used to precisely adjust the gun before the actual welding process takes place and prevents the sheets from being permanently deformed due to setting inaccuracies. What's more, the Basic plus and Loaded variants have a force sensor and a process monitoring feature to ensure the best-possible welding results.
The DeltaCon spot welding guns have a modular design, meaning that the same main components are used in both the C-type and X-type geometries. This allows users to perform a variety of welding tasks without incurring expensive storage costs for different components. Their compact design also enables easy access to components, even in restricted spaces, as there are no laterally protruding parts and all hoses and cables are housed within the gun body. The transformer is integrated in the main body, has its own cooling unit and is suitable for all aluminium applications. Thanks to the well-thought-out arrangement of the individual modules, they are easy to install and remove during assembly and servicing. This reduces downtimes to a minimum and enables a high level of productivity to be achieved. What's more, users can connect the DeltaCon guns to all different types of robots.
The spot welding guns are programmed using an intuitive graphical interface. The combinations of the most important parameters can be viewed here at a glance. In addition, all DeltaCon and DeltaSpot models can be connected to the WeldCube documentation and data analysis system. This enables the user to constantly monitor and evaluate the welding processes across devices, which in turn helps to improve the quality. As a full system supplier, Fronius offers entire solutions for resistance spot welding from a single source. Not only can the customer choose their preferred parts and components, but they also have a choice of a wide range of services, including installation, maintenance, training and the creation of programs, giving them reliable, highly productive, cost-efficient welding processes whatever their requirements.
Related