Johnsons New Metasys Enterprise Management Software is Enhanced with Tenant Management Feature
Press Release Summary: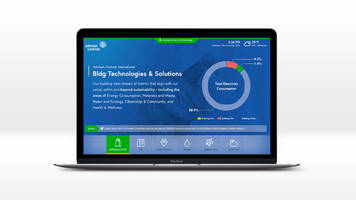 Johnson Controls' Metasys® Enterprise Management Software provides the visibility of real energy consumption through via personal dashboards to tenants and building owners. The software helps the tenants in tracking consumption of energy and calculates true consumption of multiple commodities (electricity, gas and water) and generates bills. The Kiosk feature displays live data such as current energy and water usage, reductions in CO₂ emissions and outdoor air conditions.
---
Original Press Release:
Johnson Controls Metasys® Enterprise Management Platform Gives Building Owners and Operators Powerful New Tools to Showcase Energy Conservation
New Tenant Management and Kiosk features allow building owners to access and share real energy and sustainability data with tenants and the public
MILWAUKEE – (May 1, 2018) – Johnson Controls expands the capabilities of its comprehensive, analytical, cloud-based optimization platform, Metasys® Enterprise Management (MEM), by introducing several new features. The new Tenant Management enhancement gives tenants and building owners visibility into real energy consumption through personal dashboards, while Kiosk enables building owners to showcase their properties' energy conservation and sustainability programs to the public.
With the new Tenant Management feature, tenants can now track their energy consumption and cost and make online after-hour requests. Building owners can compare and analyze the energy consumption and spend of each tenant, track trends and a see a summary of after-hour requests for each tenant. Using this information, a building owner can suggest corrective action to help tenants lower their energy costs.
The Tenant Billing feature calculates true consumption of multiple commodities (electricity, gas and water) and auto-generates bills. This assures tenants pay only for their energy consumption, rather than a flat rate based on square footage.
Kiosk is a powerful, new, public-facing tool that enables building owners to share a dynamic and interactive experience, highlighting real-time energy reduction. It displays live data, including current energy and water usage, reductions in CO2 emissions and outdoor air conditions. It also informs users and visitors about their organizations' environmental impact, LEED certification and ENERGY STAR goals.
"Johnson Controls is dedicated to providing quarterly enhancements to the Metasys Enterprise Management platform to strengthen the customer experience and create new possibilities for our current and future customers," said Terrill Laughton, vice president and general manager of Energy Optimization and Connected Offerings, Johnson Controls. "In addition to the new features, we also made the platform available in five new languages – Brazilian Portuguese, Italian, Japanese, French and Dutch -- in addition to the original English, German, Chinese and Spanish (European) language offerings."
Metasys Enterprise Management works with energy meters, smart devices and building automation systems to continuously extract otherwise overwhelming amounts of energy and equipment data. This data is securely transmitted to the cloud, where it is proactively analyzed 24x7, identifying faults and opportunities for improved performance and operational savings. Intuitive, out-of-the-box dashboards display the aggregated data and actionable information. Using the platform, facility personnel can create work orders and then track progress toward the solution.
To learn more about Metasys Enterprise Management, please visit http://www.johnsoncontrols.com/buildings/building-management/mem.
About Johnson Controls
Johnson Controls is a global diversified technology and multi-industrial leader serving a wide range of customers in more than 150 countries. Our 120,000 employees create intelligent buildings, efficient energy solutions, integrated infrastructure and next generation transportation systems that work seamlessly together to deliver on the promise of smart cities and communities. Our commitment to sustainability dates back to our roots in 1885, with the invention of the first electric room thermostat. We are committed to helping our customers win and creating greater value for all of our stakeholders through strategic focus on our buildings and energy growth platforms. For additional information, please visit www.johnsoncontrols.com or follow us @johnsoncontrols on Twitter.
About Johnson Controls Building Technologies & Solutions
Johnson Controls Building Technologies & Solutions is making the world safer, smarter and more sustainable – one building at a time. Our technology portfolio integrates every aspect of a building – whether security systems, energy management, fire protection or HVACR – to ensure that we exceed customer expectations at all times. We operate in more than 150 countries through our unmatched network of branches and distribution channels, helping building owners, operators, engineers and contractors enhance the full lifecycle of any facility. Our arsenal of brands includes some of the most trusted names in the industry, such as Tyco®, YORK®, Metasys®, Ruskin®, Titus®, Frick®, PENN®, Sabroe®, Simplex® and Grinnell®. For more information, visit www.johnsoncontrols.com or follow @JCI_Buildings on Twitter.
More from Fluid & Gas Flow Equipment