Jobsite Stereo System features 360° speaker configuration.
Press Release Summary: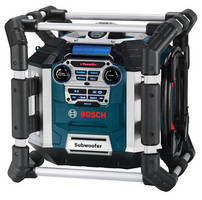 Power Box(TM) 360 products feature 4 speakers and subwoofer that projects sound in all directions. Remote controlled from up to 40 ft away, they provide AM/FM reception and play MP3 and WMA files via SD memory card/USB port in digital media bay. Model PB360S also features 4-way power outlets, while PB360D has GFCI outlets, SIRIUS(TM) Dock & Play port, and backlit control panel. These shock/impact protected systems also feature bay for charging Bosch 14.4 or 18 V lithium-ion power tool batteries.
---
Original Press Release:

Bosch Power Box(TM) 360 Poised to Re-Define Jobsite Sound System Category



Power Box legend keeps growing thanks to premium sound quality, durability and loads of new features!

Mount Prospect, Ill - The award-winning Bosch Power Box(TM) immediately became one of the manufacturer's hottest selling products when it was first introduced in 2004 and, again, when it was upgraded in 2006. With its unmistakable roll-cage design, the original Power Box became the standard by which all others would be measured. Even four years later, the Bosch Power Box still enjoys best-in-class status. Later this year, however, Bosch Power Tools & Accessories will once again turn the category on its ear when it launches the next evolution in the series, the Bosch Power Box(TM) 360.

One glance at the Power Box 360's premium 360-degree speaker configuration alone indicates the new Power Box is unlike anything else in its class. The five-speaker design with an integrated subwoofer - an industry first among jobsite radios - projects high-quality, enriched sound in all directions. That means no more jobsite bickering over the placement of the radio.

Not only does the Power Box 360 offer outstanding premium sound but Bosch also made the sound more powerful than the previous PB10-CD. The PB360S model offers more than 2X the sound power output of the previous version, and the PB360D model offers up to 5X more sound power output. Advanced digital signal processing delivers optimized AM/FM reception and quality, for crisp, clear radio sound. Enhance the music listening experience further by selecting from four preset equalizer settings, or customize the music by programming separate bass and treble controls.

Prefer to take your personal digital media player with you? No problem. The Power Box 360 features a weather-sealed digital media bay that offers secure storage and protection from moisture, dust and debris. Simply plug your digital media player in, close the door and get back to work. Not sure you want to take your expensive media player to the job site? The digital media bay also features built-in SD memory card and USB ports so you can play your favorite MP3 and WMA digital music files right from your SD memory card or USB thumb drive device.

The USB port also doubles as a powered USB port so that you can also charge most USB-enabled devices. The PB360D model even features a built-in SIRIUS(TM) Dock & Play port for connecting select SIRIUS satellite radio devices (device, antenna and subscription sold separately). Care to play your portable CD player, other satellite radio device or any other digital media device? Both versions of the Power Box 360 feature external auxiliary ports as well as a line out port for connecting your Power Box 360 to another unit.

Turn the Power Box 360 around and there's a built-in battery bay. Plug the unit in and conveniently charge Bosch 14.4V or 18V lithium-ion power tool batteries inside the Power Box 360. If there's no access to electrical outlets, those same batteries can be used to power the unit, which makes the Power Box 360 ideal for on-the-go or outdoor use.

If users do have access to electrical outlets, the Power Box 360 also serves as a power center. The PB360S model features built-in four-way power outlets and the PB360D model features four-way GFCI outlets so you can power or charge anything from corded power tools and small shop lights to cell phones and laptop computers. Both models also feature a 12V DC (car charger) outlet for more even more versatility.

When it comes to controlling all that power and functionality, Bosch has made that easier too. The new illuminated LCD display on both models is angled upward for easier viewing and large, easy to see buttons and knobs make controlling and programming the unit nearly effortless. The PB360D model features a fully backlit front control panel for easier viewing in the dark and exclusive remote control with onboard storage for users to control the Power Box 360 from up to 40 feet away.

Of course, the Power Box 360 retains the distinctive and rugged aluminum and rubber roll cage design. By using precisely positioned rubber bumpers to suspend the radio inside the protective cage, the Power Box 360 is isolated from the shocks and impacts commonly encountered on the toughest jobsites, so the music never skips a beat and the Power Box 360 stands up over time.

The Power Box 360 will be available in two versions later this year through authorized dealers nationwide - the PB360S, launching in June, and the deluxe PB360D shortly thereafter. To find out more or to locate a dealer, users may visit www.boschtools.com or call 877-BOSCH-99.

About Bosch Power Tools and Accessories:

Bosch Power Tools and Accessories is one of the divisions within the $1 billion, 4,000 employee strong Robert Bosch Tool Corporation, which is the North American branch of the largest power tool and accessory manufacturer in the world, Robert Bosch GmbH. Bosch provides a complete line of corded and cordless power tools and accessories engineered to survive any jobsite and allow professionals to take control of their work. For more information, call toll free 877-BOSCH-99 (877-267-2499) or visit www.boschtools.com.

About Bosch Group:

The Bosch Group is a leading global supplier of technology and services. According to preliminary figures, some 270,000 associates generated sales of roughly 38 billion euros in the areas of automotive and industrial technology, consumer goods, and building technology in fiscal 2009. The Bosch Group comprises Robert Bosch GmbH and its more than 300 subsidiaries and regional companies in over 60 countries. If its sales and service partners are included, then Bosch is represented in roughly 150 countries. This worldwide development, manufacturing, and sales network is the foundation for further growth. Each year, Bosch spends more than 3.5 billion euros for research and development, and applies for over 3,000 patents worldwide. With all its products and services, Bosch enhances the quality of life by providing solutions which are both innovative and beneficial.

The company was set up in Stuttgart in 1886 by Robert Bosch (1861-1942) as "Workshop for Precision Mechanics and Electrical Engineering." The special ownership structure of Robert Bosch GmbH guarantees the entrepreneurial freedom of the Bosch Group, making it possible for the company to plan over the long term and to undertake significant up-front investments in the safeguarding of its future. Ninety-two percent of the share capital of Robert Bosch GmbH is held by Robert Bosch Stiftung GmbH, a charitable foundation. The majority of voting rights are held by Robert Bosch Industrietreuhand KG, an industrial trust. The entrepreneurial ownership functions are carried out by the trust. The remaining shares are held by the Bosch family and by Robert Bosch GmbH.

In North America, the Bosch Group manufactures and markets automotive original equipment and aftermarket products, industrial drives and control technology, power tools, security and packaging technology, thermotechnology, household appliances, solar energy and healthcare products. Bosch employs nearly 24,000 associates in more than 70 locations throughout the U.S., Canada and Mexico, with reported sales of $8.6 billion in fiscal 2008. For more information on the company, visit www.boschusa.com.

More from Communication Systems & Equipment