JLG Rebrands Gradall® Rear Pivot Steer Telehandlers and Expands JLG® Telehandler Line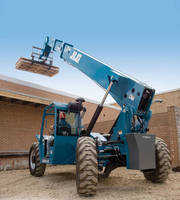 McConnellsburg, Penn., October 27, 2008 - JLG Industries, Inc., an Oshkosh Corporation company, and leading manufacturer of telescopic material handlers, announced today that by the end of 2008, Gradall® branded telehandlers will become part of an expanded JLG® branded telehandler family.

"The Gradall name has been an icon in the telehandler industry for decades, with a reputation built on reliability and performance. We're maintaining all the finest qualities of the Gradall name and product, including the famous blue color, but will begin branding these models under the JLG name," said Kirsten Skyba, VP - Global Marketing, JLG Industries. "The same number of models will be available and the equipment will continue to be built, serviced and sold with the high level of quality inherent in all JLG products."

JLG will continue to provide Ground Support(TM), JLG's industry leading aftermarket service, parts, training and technical support services, for existing Gradall branded telehandlers. Aftermarket support for Gradall branded telehandlers, as well as new, JLG® branded, rear-pivot steer machines will continue with the same service network as before as well as many additional JLG dealers throughout the country.

This rebranding initiative marks the completion of a plan that began in 2006, when JLG sold the Gradall excavator line.

About JLG Industries, Inc.

JLG Industries, Inc. is the world's leading designer, manufacturer and marketer of access equipment. The Company's diverse product portfolio includes leading brands such as JLG aerial work platforms; JLG, SkyTrak, Lull and Gradall telehandlers; and an array of complementary services and accessories that increase the versatility and efficiency of these products. JLG is an Oshkosh Corporation company.

For more information about JLG Industries, Inc., log onto the company website: www.jlg.com

About Oshkosh Corporation

Oshkosh Corporation is a leading designer, manufacturer and marketer of a broad range of specialty access equipment, commercial, fire & emergency and military vehicles and vehicle bodies. Oshkosh Corp. manufactures, distributes and services products under the brands of Oshkosh®, JLG®, Pierce®, McNeilus®, Medtec®, Jerr-Dan®, BAI®, Oshkosh Specialty Vehicles, Frontline(TM), SMIT(TM), Geesink(TM), Norba(TM), Kiggen(TM), CON-E-CO®, London® and IMT®. Oshkosh products are valued worldwide in businesses where high quality, superior performance, rugged reliability and long-term value are paramount.

For more information, log on to www.oshkoshcorporation.com.