Jet Valve and Touch Controller dispense exact micro-deposits.
Press Release Summary: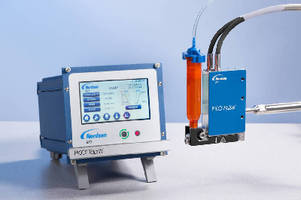 With PICO® Pµlse™ Valve and PICO Toµch™ Controller, Jet Dispensing System can dispense repeatable micro-deposits as small as 0.5 nL at up to 500 Hz continuous, with 1,500 Hz bursts. Non-contact jet valve's modular design makes it possible to jet low- to high-viscosity fluids onto any surface, including uneven and tough-to-reach substrates. Providing touchscreen interface, controller lets users set extremely precise operating parameters. Pulse time can be adjusted in increments as small as .01 ms.
---
Original Press Release:

Nordson EFD Introduces the Latest Innovations in Jet Dispensing Technology



The PICO Pµlse non-contact jet valve and PICO Toµch controller with intuitive touch screen interface offer greater dispensing capabilities for superior process control



Video available at: https://www.youtube.com/watch?v=rjGG8iYwNOE



East Providence, RI USA -- Nordson EFD, a Nordson company (NASDAQ:NDSN), the world's leading precision fluid dispensing systems manufacturer, introduces innovative piezoelectric jetting technology that removes the barrier between speed and accuracy. EFD's new PICO® Pµlse™ valve and PICO Toµch™ controller make it possible to dispense very exact, repeatable micro-deposits as small as 0.5 nL at up to 500Hz continuous, with 1500Hz maximum bursts - an industry best.



The PICO Pµlse non-contact jet valve's modular design makes it possible to jet low- to high-viscosity fluids onto any surface, including uneven and tough-to-reach substrates. Exchangeable parts provide versatility, making the valve adaptable to a wider range of applications, so it can meet changing production demands. Its innovative tool-free latch mechanism allows for easy removal of the fluid body for faster serviceability and maintenance - reducing downtime and increasing productivity. Variable stroke, improved close time, and faster full stroke open time makes Pµlse one of the most robust jet dispensing valves on the market.



Nordson EFD PICO Pµlse: Innovative Jet Dispensing System

Nordson EFD PICO Pµlse:

Innovative Jet Dispensing System

The PICO Toµch controller features an easy-to-use intuitive touch screen interface for precise control of the PICO Pµlse valve. Users can set extremely precise operating parameters, such as ramp open and close, and stroke control to fine-tune dispensing performance. Pulse time can be adjusted in increments as small as .01 ms. Better slope control delivers more repeatable deposits while preventing turbulence and air bubbles from entering the fluid - preventing deposit variation.



"The PICO Toµch controller's intuitive touch screen interface allows precise programming of the PICO Pµlse valve setup parameters to give customers a vastly improved jetting solution," said Claude Bergeron, global product manager, Nordson EFD. "As a leader in innovative jet dispensing systems, EFD is dedicated to working closely with manufacturers to provide the best process control possible."



"Our goal is to provide equipment that dispenses the most accurate deposits at faster cycle rates, with less fluid waste and easier maintenance, to increase bottom-line profitability and help our customers stay ahead of changing market demands," Bergeron said. "Our new PICO line does exactly that and more."



For more information visit Nordson EFD on the web at www.nordsonefd.com/PICO, www.facebook.com/NordsonEFD,  or www.linkedin.com/company/nordson-efd, email info@nordsonefd.com, or call +1 401.431.7000 or 800.556.3484. For Nordson EFD LLC sales and service in over 40 countries, contact Nordson EFD or go to www.nordsonefd.com.



Nordson EFD's PICO Pµlse valve and PICO Toµch Controller will be featured at the following global trade shows and other regional shows around the world:



Show Region Dates

NEPCON South China (stand A-1H20)

China - Shenzhen

Aug. 25 - 27

The Assembly Show USA - Rosemont, IL Oct. 27 - 29

Productronica Europe - Munich Nov. 10 - 13



About Nordson EFD

Nordson EFD designs and manufactures precision fluid dispensing systems for benchtop assembly processes and automated assembly lines. By enabling manufacturers to apply the same amount of adhesive, lubricant or other assembly fluid to every part, every time, EFD dispensing systems are helping companies in a wide variety of industries increase throughput, improve quality, and lower their production costs. Other fluid management capabilities include high-quality syringe barrels and cartridges for packaging one- and two-component materials, along with a wide variety of fittings, couplers and connectors for controlling fluid flow in medical, biopharmaceutical and industrial environments.The company is also a leading formulator of specialty solder pastes for dispensing and printing applications in the electronics industry. 



About Nordson Corporation

Nordson engineers, manufactures and markets differentiated products and systems used for dispensing and processing adhesives, coatings, polymers, sealants and biomaterials; and for managing fluids, testing and inspecting for quality, treating surfaces and curing. These products are supported with extensive application expertise and direct global sales and service. We serve a wide variety of consumer non-durable, consumer durable and technology end markets including packaging, nonwovens, electronics, medical, appliances, energy, transportation, building and construction, and general product assembly and finishing. Founded in 1954 and headquartered in Westlake, Ohio, the company has operations and support offices in more than 30 countries. Visit Nordson on the web at www.nordson.com, www.twitter.com/Nordson_Corp or www.facebook.com/nordson.



Nordson EFD, LLC



Global

Natalie Tomasso

(401) 431-7173

Natalie.Tomasso@nordsonefd.com



USA & Canada: 800-556-3484;

+1-401-431-7000

info@nordsonefd.com



Europe

+44 (0) 1582 666334

europe@nordsonefd.com

More from Safety & Security Equipment